Quinton "Rampage" Jackson V.S. Chuck "The Iceman" Liddell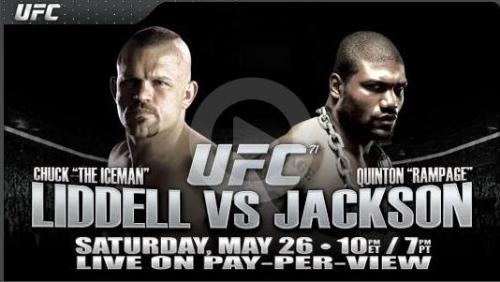 Canada
May 4, 2007 2:29pm CST
who do you think is gonna win?? i want rampage to win so he gets the belt but i think chuck might win cuz he's still in his prime. the fight is gonna be intense because if chuck wins, he will avenge all his loses. rampage is the last guy on the list but if rampage wins, he wins the light heavy weight belt. unfortunantly you have to pay to see this match but i'll do it anyways because the match is gonna be one of the greatest fights ever. the match is on may 26th and i can't wait.
3 responses

• United States
4 May 07
I want Chuck to win! He deserves it. I'll be watching. My husband and I are UF junkies! UF and boxing. Guess it's weird for a woman but it's my thing. Chuck's got it in the bag!

• United States
5 May 07
I don't think Rampage could hold onto it for long. Besides, I want to see Chuck avenge his losses. I like the guys who are humble outside of the ring. I like to see the cocky ones get their butts kicked. :)


• United States
29 May 07
I wish I would have seen this discussion earlier.I know now the fight is over,but I called it.I picked Rampage to win even though I hoped Liddell would win.Rampage is just such a powerhouse.Anywho I won $10.00 on the deal.