What have you planted and regreted?

United States
3 responses

• United States
5 May 07
I sure have. I planted some big sunflowers, they were real tall and very pretty. But, after a couple years they had spread all over. I had them popping up all over my yard. They were pretty the first couple of years though.

• United States
5 May 07
Did they coe back even after you tilled up your garden? On the upside of the mint I bet it smells really good when you mow your grass!

• United States
5 May 07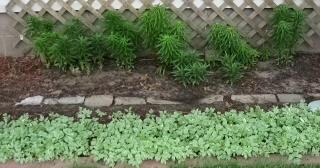 Anytime you plant an invasive plant as these here so far it's a great idea to dig a trench around the area a foot deep. Then place a barrier of some time in the edge of the trench. A row of bricks or even a weed barrier meshing works. Even just a brick border ground level helps a lot. They also have different edging that can be buried in the ground as an edging to stop invasive plants from spreading. There of course will be some spread due to weather conditions but NO way near without a border of some type. I have Snow on the Mountain whish is very invasive and I have a edging of bricks all around to keep it from getting into my lawn. Look at the attatched photo to see the brick edging I have. HAPPY POSTINGS FROM GRANDPA BOB!!~