What is the Absolute Funniest Thing Your Cat Has Ever Done?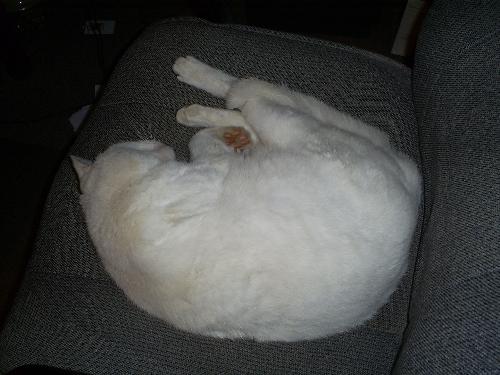 United States
May 4, 2007 9:35pm CST
Wilbur is hilarious and keeps us laughing, but there is one particular incident that happened about two years ago that I will never forget. I was sitting at the computer typing one night and he started meowing. I looked at him and asked him what did he want but then turned back to my computer and kept working. Suddenly I heard this noise beside me. I turned to look and Wilbur had decided to use the drawers of my desk (they were opened at the time) as a ladder to climb to the top of my desk. I couldn't help but laugh but I said "Wilbur, what are you doing kitty?" He looked around and meowed and then started walking across my desk! He first started across my keyboard. The funny part was I was in the middle of a medical report and his paw stayed on the letter t so several ttttttttttttttttttts were going across my screen!! Then his paw moved and it landed on the PRINT SCREEN button so the screen started printing out on my printer!! By this time I was laughing so hard I was hurting!! He then proceded to walk over to my calculator which is right next to my computer monitor. He stepped on to it and his paw landed on the paper advance button so paper started running through on the calculator. I was about to split my side I was laughing so hard! Wilbur looked at the printer and at the calculator and was absolutely bumfuzzled! He couldn't understand what was going on, what he had done and why I was laughing at him! He finally couldn't take it anymore and jumped off into the floor!! Ha! Ha! My daughter Amanda had come in by this time and we were both nearly rolling in the floor laughing. Amanda sat down in the floor and walked over and climbed into her lap. I think it thought it was much safer than on my desk.:):)
8 responses

• United States
5 May 07
Awwwww thats so cute. Your Wilbur and by the way I love that name. He was trying to help you type thats all. Well I told you I have 3 of them and one of them always is in here with me when Im on the computer too. And sometimes she will jump into my lap and look at the screen and just watch it.LOL It sometimes hard to type with her in my lap. Because she is a huge cat. Her name is Molly. I think its funny to watch her head go back and forth. And sometimes she tryes to get it with her paw. LOL You have to love them.

• United States
5 May 07
That is so sweet!! I love to heart stories about our animals. They are tremendously entertaining. Wilbur is constantly doing something to get our attention and keeps us laughing most of the time. You mentioned his name, that came from the people who had him before us. :)

• United States
5 May 07
Now that is funny! My Cat "Jack" likes to be the center of attention. He will sit right by me and roll over onto his back and start meowing. Now this means...Rub my belly now mom! If I'm on my puter,he will "butt" my hand and if I'm not careful,my puter will fall to the ground. Jack is a very special kitty!!

• United States
5 May 07
He sounds like he is indeed very special!! Now that is a cute story.:)

• United States
19 May 07
We used to have a cat named Twoey that loved to watch the water swirl in the toilet. He'd sit on the seat and meow till somebody came and flushed it and then he'd lean real far in to see it up close lol. Our cat we have now, Morgana, loves my printer. She will step on it somehow and it will start printing test pages until I unplug it. She also likes to hide behind the DVD's in the TV cabinet and leap out at you when you walk by. Another favorite is to jump up on top of the Fridge and sit in a vulture position waiting to pounce. She's comical. LIVE IN PEACE

• United States
16 May 07
Well my cat named snowball, wish I had a picture to send with this post. He is solid white with blue eyes. I was doing an ab roller exercise on the floor when he decided to jump on my back. I continued doing the exercise with him on my back, though it was a bit difficult since he weighs about 16 pounds or so. I haven't done that in awhile, but if I am slightly bent, and he is anywhere around, he will jump on my back.

• United States
15 May 07
My cats are always doing funny things, but I don't know if this is funny but one day my big cat (he weights 35 pounds) decided he wanted me to stop working on the computer so he came and literally sat on the laptop keyboard, when I saw him, I freaked and yelled at him to get off, he did but he was scared at me yelling at him (since I rarely do it) that he kicked off with his back feet and took 3 keys with him, thank goodness for warranties, I called Dell the next morning and they replaced the keyboard.

• United States
15 May 07
When I was younger I had a cat name Missy Lynne. She was my baby, I would dress her up in preemie baby clothes and watch her slink across the floor, that was funny. But she would get even with me, late at night she would sit on top of the fridge and wait. In the middle of the night when I would get up to get a drink of water I would have to walk past the fridge. Missy would reach her paw out and smack me or my mother up side the head. When we would jump and scream she would meow and jump down. I swear she was laughing.

• United States
15 May 07
That does sound pretty funny. Cats are so humerous with some of their antics. I had been wrapping a birthday present and I had taken a piece of tape and stuck it to the edge of the table so I could have it ready when I needed it. well,my kitty moose decided to play with it and it stuck to his paw. Oh,boy,it was like ww3! You might have thought someone was killing him all the antics he was going through trying to get it off his paw.He was running into things ,rolling all over the floor.In the mean time,I am laughing my butt off so hard I couldn't do anything.finally my dad caught him and took the tape off. Darn it! lol

• United States
14 May 07
i have a calico who is very possessive of my brother. anytime he speaks on the the phone to a girl,she will come up on the desk and hang it up.i don't know how she knows,i guess she can hear the tone of the voice from where she is. i have had to explain to several of his girlfriends for him yes,it is the cat,she is jealous. they didn't believe him LOL