Nostradamus: Could he really see the future?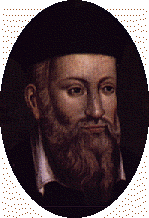 Philippines
May 4, 2007 9:43pm CST
Nostradamus was born in early 16th century and has become one of the world's most widely known and read prophets. But i am not familiar with all his prophecy. Does he really see the future? Is he really a prophet? Share your insight. Would love to hear further info.
4 responses

• United States
5 May 07
He is a very interesting person to study. The problem with his prophecies is that they seem to only be known after the event has happened. Then people look back and can see what he meant in his sayings. I've read several books about him and I thought the prophecies are hard to understand. But, after something has happened and you go back to them - it makes sense.


• United States
5 May 07
There is always disagreement about what his predictions meant. My personal belief is that the power to forecast future is a 'dark' power, and if it is not from GOD I do not want anything to do with it. The test of any sort of 'future' seer is if they are ever wrong, if they are wrong it does not come from GOD.

• Philippines
10 May 07
I believe too, but i am thinking how does Nostradamus called a prophet by some. If ever he really has vision for the future, where are those from? Usually as far as I remember those visions from God are seen by the prophets through their dreams. So, how about Nostradamus?


• Philippines
12 May 07
some of actually happen, some not yet but I'm saying his not a prophet.