Which Car DO You Own...?

India
10 responses

• United States
6 May 07
We own actually 2 cars one is BMW 530i 2007 and other one is nissan altima 2.5s of 2006.Well both of the cars do have good capacity for 5 peoples like yours.BMW one is metallic black in color wheres as nissan altima is smokey grey.

• India
9 May 07
A BMW and that too BLACk..! I ENVY YOU...!

• India
6 May 07
Well.. in India, i own Honda Civic.... Its black one.. Whereas in Kuwait, i own Lamborghini Gallardo.. The yellow colored... Its my favourite sports car...

• India
6 May 07
A lamborghini!!!!!!! WOW!!! Thats one of the finest cars in the world!!! You damn lucky man!! A '+' for you!!

• United States
6 May 07
I own a Montana Van, A Ford Tauras Wagon, and a Chev. Cavellar. I buy one good car, my Van, and the other cars usuall have over 100,000, Mile on them and I am able to pay cash for them. Cheeper Insurance and not car payment.


• India
9 May 07
hey thats great..! it has one of the greatest mileage!!

• India
21 Jun 07
yes its the car of the country India....

• India
21 Jun 07
yeh truly said yaar!! Simply great i dont think any one else than that has more mileage. It gives about 22 km per litre!

• Bulgaria
9 May 07
Hey guys what are you working? :)) I didn't have any cars but i drive a lot. Skoda Octavia, Opel Astra, Opel Astra Combi, Opel Kadett, Lada, Trabant .... and to add something - i live and work in Bulgaria :))

• India
11 May 07
Bulgaria..! good.. I think skoda Octavia is a great one amonst what you listed isnt it? I have dream to drive a lamborghini..!


• United States
6 May 07
We have a GMC Safari with almost 142,00 miles on it. It seats 8 comfortably even with 3-4 child safety seats installed. It has an automatic transmission. We have had it for just over a year. It's a lighter blue-green. We also have a Chevy pick up truck which is a two door extended cab and seats 5. It's also a standard transmission so I love driving it. We bought it exactly 20 days after the van. It is a medium shade of green. Then our third vehicle is a Dodge Shadow. It was my car but isn't running right now. It also has a standard transmission. It is a dark green with gold colored trim and wheels. We bought it 20 days before the van. The funny thing is, neither of us like green very much. He doesn't like any shades of green and I only like dark green.


• India
23 Jun 07
hey that looks cute.. hope u have a great drive in your car!

• United States
10 May 07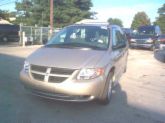 We have a gold 2000 Dodge Grand Caravan. The only year to have this color was to celebrate the year 2000, so if you see any American car painted gold, that is probably its year of manufacturing. It's rarely given us any trouble and besides being pretty, its gas efficient.