Mine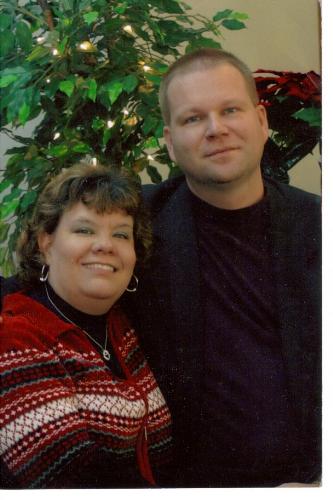 United States
May 6, 2007 12:00am CST
It's been just short of 25 years since I met the young blond boy, who would one day be my husband. He was just 14 years old at the time. I was a worldly 15 and felt that talking to him was beneath me. Besides my best friend, who was also 14 liked him, so he was off limits. Later, in the fall of 1982, I ran into him again at a choir festival. It was my 16th birthday, and everyone kept singing to me. My cousin, who was a senior in high school, was the instigator of that and by the end of the day, I was no longer speaking to him. Mike, took me by the hand, and we ran, laughing into an empty classroom to get away from the Singing telegrams. I spent almost an hour talking to him. Another friend from my school came looking for me, telling me that we were ready to leave. He handed me his school picture and asked me to take it to Lisa on Monday. "Sure". I didn't see him again for several months. He and Lisa seemed to drift apart, and she liked another guy that was a friend of her brother's. The summer of 1983, my phone rang one evening, and I was surprised to hear his voice on the other end of the line. We began to talk on the phone for several hours each night. He assured me that things were over between he and Lisa, and I found myself drawn to this boy with the bright blue eyes. He invited me to his church youth outing. He wasn't old enough to drive, so his brother came and picked me up. On the way, he sat in the front seat. I sat alone in the back! Once we got to church, he was friendly towards me, but nothing like he'd been on the phone. Then I remembered that his youth group was filled with Lisa's cousins. I was sure that she would hear that I'd been to church with him. The next Saturday night, we both arrived at a local youth music rally. We sat on the hood of my mom's car, listening to the music, and talking. I met his sister and brother in law and both of his nieces. Before he left that night, he kissed me for the first time. The next afternoon, Lisa called me, very upset. She had not only heard about me going to church with him on Wednesday night, but had also heard about us being together the night before, and the fact that he'd kissed me good night. He was her boyfriend! I reminded her, in a heated tone that she'd been going out with Dave, and hadn't seemed to think anything about it. She hung up on me, and it was months before she spoke to me again. Mike and I began dating, with either me driving, or his brother taking us places. Looking back, we were just babies, and had no idea what we were doing. But the spark that has grown into a 20 + year marriage, was born that summer. It flamed into a relationship that has borne three beautiful children, and a wonderful array of friends... including Lisa and her husband.
9 responses

• United States
6 May 07
What a wonderful story. I am glad that you shared it with me. Funny how life puts us were we need to be to find that special one. Glad you found that special one at an early age. Sounds like you are really happy too. Good for you.

• United States
12 May 07
I'm glad I shared it too. I've been meaning to write it down for years and just haven't done it. I'm grateful that people asked me to do it.

• United States
6 May 07
Wow, that is such a sweet sweet story :) I remember when I was 17 and laid eyes on my husband for the first time although it would be almost 3 years later before we'd be together. I'm 27 now and been with my husband for over 7 years. He is my entire world. It hasn't come without many trials, but it has all been so worth it. He makes me feel so incredible a lot of times.

• United States
12 May 07
That's wonderful. It's nice to see men who treat their ladies right. Mine has been wonderful to me, even at times when I'm sure I didn't deserve it. Any kids?

• United States
6 May 07
That is so sweet. It make me think of the first time I saw my husband and how I didn't want to get involved with a guy yet because I had just been burned by one that I thought liked me but turns out he was using me to get to my sister. But God had other plans in mind and now we have been married a little over a whopping 3 years but they have been wonderful years. Thanks for helping me walk down memory lane.

• United States
12 May 07
that's funny. I have this idea for a book that I'm pondering in my head...I may get back to you on this...lol

• Canada
6 May 07
What a wonderul sweet story. That's 25 down, and may there be atleast 25 more, and maybe 25 x 2 after that. ;-) I hope you two will be together forever. you sure sound like you were made for eachother, and that you make eachother really happy.

• United States
12 May 07
Sometimes, he drives me batty...but I don't ever stop loving him. He is the best thing that's ever happened to me. I would love to spend the next 50 years with him. That would make us 89 and 90. It could be done.

• United States
6 May 07
Sometimes the Lord leads you into young relationships for a special reason, and we should cherish them. Long relationships do not seem the norm any more, but I wish you many happy years and memories. This is a sweet and fun post.

• United States
12 May 07
thanks. I remember sa college professor telling me before I got married that I thought I loved him as much as I could now, but in 20 years the love would be more than I could imagine, because it would grow with each passing day. I thought you have lost your mind...but he was right.


• United States
12 May 07
thank you for that. It hasn't been easy. Just have to keep trying every day. Most young people want to give up at the first sign of trouble.

• United States
6 May 07
That is a wonderful story of your relationship. Thanks so much for sharing such an inspiring history with us. It is so hard to find that in the world anymore and so refreshing to hear there are successful marriages! Thanks!

• United States
12 May 07
There are about 10 couples who got married around the same time that Mike and I did that are still together. So many of my friends have been married and divorced, and some of them married and divorced again.


• United States
12 May 07
me too. There were a couple of years where the relationship was a bit strained. But with both of us married with kids, it's turned out alright.

• Philippines
6 May 07
nice story..... pretty long... but pretty sweet...