Will Manchester United Win this years EPL cup???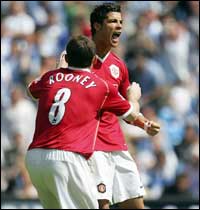 India
4 responses

• South Korea
6 May 07
I love Manchester United! and I'm sure We will get the League Cup! I can't wait the game Chelsea vs. Arsenal a few minutes later. If Chelsea lose the game, We win! but they say still there's Tim Howard problem, possible to lose points.

• Romania
6 May 07
I think Manchester United is now set to win the Premiership too. It wasn't easy though...like always, City put up a good fight. I am a supporter of Manchester United so I can only be extremely pleased of my team winning the Premiership. It's been a while...

•
6 May 07
Humm well..Manchester United have had bad times...altho majority of the time they hav been in good form..i truely believe that Manchester united will win this years' English premier league...as they are in good foat present.and so are their players...i don say other teams are not fit.but manchester unitedd have the upper hand...

• India
7 May 07
Its seems certain now tht Manchester united will win Cup this year, after Chelsea draw to Arsenal, so after lost to ACmilan some good news for manchester united coming there way... Well yup its been while tht manchester united winning it... It was golden time during becham days in manchester united, hope days r back to manchester united again...