I accidentally punctured a hole in my freezer - what should I do?

India
May 6, 2007 8:15am CST
When I was cleaning my fridge-freezer, I accidentally punctured a hole in the freezer and gas came out. I felt the gas and it was cold and it smells bad. At first it hurts and it made my fingers numb for 5 minutes. I accidentally punctured a hole in the tube in the freezer because I was removing ice on it. What should I do? For now, I blocked the hole with BluTack and put tape (scotch or cellotape). Is it unsafe? Should I buy a new one? Please help me out. The problem is that I am on the second floor of my house. But it is a small fridge freezer in my bedroom. Should I get it out of the house ASAP and get all of the things out of it (Only drinks, medicines and snacks are contained in my fridge freezer)
3 responses

• India
10 Jun 07
I am the one who used to clean our fridge.Ours is a very old fridge and our freezer gets blocked with ice cubes which is difficult to remove.It takes time for the ice to get melt and hence i dont have patience and dig the ice with some sharp tool like knife or spoon. My brothers advice me that if i dig like that the freezer will get damaged and the gas will leak. I think you face the same problem and the cooling in freezer will be reduced.hope you would have done the needed service to your fridge by this time.

• India
10 Jun 07
Dear subathra Thanks a lot for your suggestions .. and care .. The matter is resolved now.

• India
11 May 07
It will be better if you call the service people from the company of that fridge or some local service people. I am too late to answer this discussion and i am sure that you would have taken some actions. But i will prefer you to contact someone who knows the effects instead of putting some tape and covering it because it may lead to low cooling effect or high current consumption :)

• India
11 May 07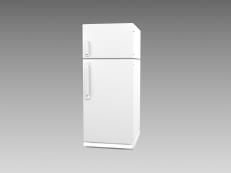 Hello Ismail Yes I called the service people and they are in the process of getting it corrected.. I was really scared when this happened..

• Defiance, Ohio
9 Jun 07
All that gas coming out is the freeon that keep syour food cold. With it. You have no freezer. The freeon can make you sick if you get to much of it. Was you able to get it fixed? Or did you have to buy another refrideator? I know my husband did thi sone time on a very old model. So, we had to replace the whole fridge. What sucks was the fact that it was the landlords refridarator. So when we moved we had to leave it behind and buy another yet again.