Wanting to shair secerts with other in home child care providers?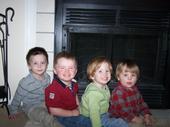 United States
May 6, 2007 8:52am CST
I just started a very small in home daycare and I am looking for advice on things that we can do during he day that is fun, easy, educational and expensive. It has to be some thing that can be done in the house for I am not allowed to leave with the children. The ages are just about to turn 2 to just turned 4. Any thing that you would like to share would be very appercated(sp).
2 responses

• United States
7 May 07
You could put tape on the ground, making a path, and have the children follow it around the home or day care area. You can paint large rocks found by the children from outside. Make a bear cave out of a cardboard box. If you are okay with using food in art, use potato as a stamp when painting. Have the children help make or set up for snacks. Make sensory bottles out of old water bottles and put cinnamon sticks and other smelly stuff in them. There are many sites out there that you can check out if you need any ideas with daily plans for the children. Some are Perpetual Preschool, First-School, and Idea Box are just a few. Also KIDiddles is a good site for children's music, such as rhymes and move along songs. Hope this all helps and good luck with your day care.

• United States
7 May 07
Those are really good ideas. My favorite would be the path I ccould use differnt color tape and tell the kids to follow the red path and this would help them learn there colors as well.

• Australia
7 May 07
I don't have a home child care or anything coz the laws about that here in Australia are quite different to there but i do have some ideas that would be inexpensive yet a lot of fun for the kids to do! Try bubble blowing, the older ones should enjoy that, you just need wire that you can make a loop at one end & some washing detergent mixed with water - easy :) It will be good for the little ones as well coz all kids love bubbles! What about finger painting? You could always do that in your garage to avoid too much mess & kids love painting! What about face painting, you could paint each child's face in to something different! Building blocks are always fun, i don't know if you have them there but here we have clams - they're a double sided thing that you can put sand in to so they could have a sand pit (they double over to keep the weather & animals out of)! I'm just trying to think of what my nieces of the same age like - dress ups work well (you can get cheap clothes from op shops), movies usually work ok, what about card games like snap? I hope that helps some ;)

• United States
7 May 07
I did not even think about dress up that is a good idea. Thank you for your respones. We do a little of the other things as well.