Beach!!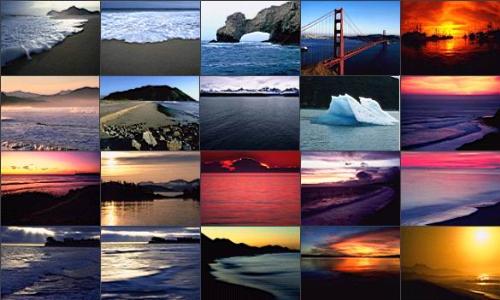 United States
May 6, 2007 12:04pm CST
Do you like beach or going to beach?What you think when you first look at it?When you are there does it change your feeling or mood?When do u like or what is the best view for you of beach like when its sun rise,sun set or evening? I really do enjoy going to beach.It is only place i never get bore of.As i first look at it it feels how calm and quite it is.But inside waves theres so much noise and so much movements.But still it looks calm.When ever I go there i feels relaxed and sometimes i want to cry as if i cry there my tears will get mixed with the water and nobody will Know i was crying.I like it when it is sun set time.It a really beautiful view.
5 responses

• United States
7 May 07
I love going to the beach! We don't have any beaches very close to where I live, so I don't get to go to one very often, but there are beaches near where my husband's family lives, so I like to make a trip to the beach when we visit them. I also think it's very calming, and it's always so pretty. It's such a great place to just relax and get rid of stress!

• United States
7 May 07
I agree with you totally.I have lots of beaches as I live in california so here we have so many of them.So i visit so many times in a month I really love to walk bare foot on sea shore.It makes me so relax.


• Pakistan
20 May 07
Ofcourse i do especially if they are western beaches.I prefer it when its hot around and thats the right moment to go on a beach getting perfect atmosphere,its good in the mid time when the water is bit calmer but when the sun setting or rising its going just up and down.

• Philippines
10 May 07
Hi Taurean83 I"m glad that you love beaches. In our country we laso have beautiful beaches as you do. We have the BORACAY BEACH RESORT which is world class. It is the most famous beach in our country, it is also well loved even by foreigners including american. Going to beaches will give you the serenity that you wanted most, because of its prestine water and you can commune with nature. If you want to cleanse your soul and get some wisdom try going to the beaches. I just hope you can also visit Boracay as I will be going ther on the 15th of this month together with my family.

• Canada
10 May 07
I ccoul dgo to the beach or waterfront everyday as there is alwasy soemthign different about and relaxing abotu the waves washing in, anytime tof the day or night is a great time to go to a beach. I love going to the beach or to a point when there is a huge strom rolling in and the waves are crashing and the wind is howleing and the rain is stinging your face it is the greatest feeling.