Ed, Edd'n Eddy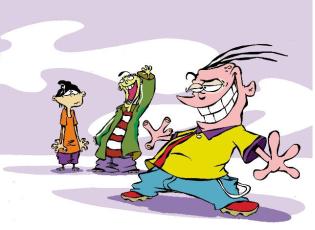 Romania
May 6, 2007 3:57pm CST
Do you know this cartoon? What do you think about "Ed, Edd'n Eddy"? I find this cartoon exceptional. It's so hilarious and it has a certain complexity here and there... If you like this cartoon, there's a great site called http://www.the3eds.com/ that you can see screenshots and download episodes from.
5 responses

•
6 May 07
I must be too old to appreciate this cartoon. My son really likes it but I find it quite irritating. Although, I do tend to sit through it and moan rather than leaving him to watch it.

•
12 May 07

Sorry you did not get any other replies. Thank you for marking the 'best response' anyway. I suppose it should be called a good response. Good, better, best Never let it rest 'Til the good is better And the better best. Keep up the good work.

• Brazil
25 May 07
Yes, I know and my favorite character is Edd! hehehehe I think he's funny for trying to be so perfect

• Romania
25 May 07
I don't know... I can't decide on my favorite Ed-boy... If you are interested in downloading some episodes for free, there's this site www.the3eds.com Go to episodes and there's a list of all the episodes ever. You can't download episodes from Season 1 and 2 anymore, because they issued DVD with those seasons. But you have plenty of episodes from Season 3 to Season 5 and 3 of the 4 Special Episodes!


• United States
24 Jul 07
Yah I think it is pretty funny. Although my 3 yr old asks to watch it all the time!!! SOmetimes I give in and actually let him watch it even though it is ridiculously STUPID