Babyshower CAKE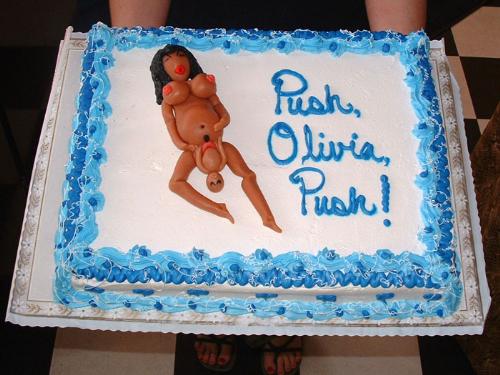 United States
May 7, 2007 2:00am CST
I saw this picture and just had to share, and wanted everyone's opinion on it. I can't believe someone had this as their babyshower cake. What makes someone create a cake like this?
6 responses

• Canada
7 May 07
I think it all depends on the persons sense of humor, but with how harmonal I was while I was pregnant if someone got me this cake I would have shoved their face in it I'm sure. I would NOT recomend having a cake like that at a baby shower for a very harmonal pregnant woman lol.

• Canada
8 May 07
Yes, it's definitely a discussion piece. LoL

• United States
7 May 07
if i hadn't have seen it myself, you wouldn't have been able to convince me!! that's nuts!! i guess they have a good sense of humor & no elders around!!


• United States
17 May 07
Wow, that's unbelievable! I don't know why someone would want that as their baby shower cake. I suppose it wouldn't be so bad if the woman was made to LOOK as if she was in a hospital bed and pushing but to have her naked and spread eagle and not lacking in detail is a bit much for my taste....I wonder who got the pieces with the more graphic decorations? Some people are amused by "shocking" cakes though. My former brother in law got a cake once that was two bowl shaped cakes arranged side by side (round side up)and covered in peach (flesh colored) icing with a red "spot" on the top of each of them. It wasn't as graphic as the baby shower cake but was still very clearly naked female body parts. They made it for him because they thought it was funny.

• United States
18 May 07
Yeah, the things people come up with, it's truly amazing. I know I wouldn't want that cake. You know themes like that should be left for bachelorette and bachelor parties, divorce parties, heck even a 50th birthday party. But a baby shower? Nah, I don't think so.


• United States
7 May 07
I didn't actually say I didn't like it, I was just wondering who could or would come up with such a thing. I'm pregnant, and though I wouldn't prefer it for me, if I went to a shower and that was the cake, it could be a great conversation starter for mingling with people I may not know.

• United States
7 May 07
I think it's kind of funny, but if I was pregnant and hormonal and was presented this at my baby shower-I probably would have thrown it at someone!