Every picture tells a story

Canada
May 7, 2007 10:27pm CST
Well i was looking at a photo album the other day with a friend and every picture we looked at i was able to tell the story of where and why the picture was taken and an issue surrounded that time frame of the picture things like that. I am including a picture with this discussion of my cat. His name is baby and i have had him for two and a half years he is regular domestic cat and simese mix. He really lives up to his name to. He is my baby. Do you have a story about a picture you would like to share or just some input on the discussion.
8 responses

• United States
8 May 07
I cherish my pictures of my first dog, Heidi. I was in 2nd grade and mom and I were walking through a store named Corvettes (now extinct). I heard other children making a lot of noise and a loud tapping noise. When I looked over I saw 5 kids shouting and hitting a cage with a puppy trembling and cowering in the corner. I pulled on my mom's hand and said I want that puppy momma. I couldn't stand to see her in fear. I had my Holy Communion money in my pocket and walked over to the counter. We lived in an apartment at the time and didn't know if we could even have a dog but mom agreed we had to get her out of there. When my landlord saw her she couldn't say no. Heidi lived until I was 20. She truly was my best friend.

• United States
8 May 07
I love to look at photos. They always seem to bring back memories of days gone by and of people whom I care about. I have many scrapbooks that I have made with my pictures. We also have pictures from the 1800's. the black and white ones on cardboard. they were taken at old log camps that my husband's Grandfather used to work at. He would tell such exciting stories about the log camp days.

• United States
8 May 07
Today I took pictures of my garden, I started a veggie garden, it is small. I also took pictures of my flowers I have two minuture roses one is blooming the other one is not, my nacked lady flowers are blooming also one is deep red and one is light pink I love them. I cannot post the pictures or I would.

• United States
8 May 07
This is a picture of a spider that we found in our yard last year. It was about an inch long and, if you aren't too afraid of spiders, very pretty. We didn't know what kind it was so asked folks about it. Apparently it is a fairly common garden spider. We had never seen one like it, however, and were very impressed by it. I didn't bother its web but a few days later a storm destroyed the web and we didn't see her any more. Just as well. I give a wide berth to spiders!

• United States
8 May 07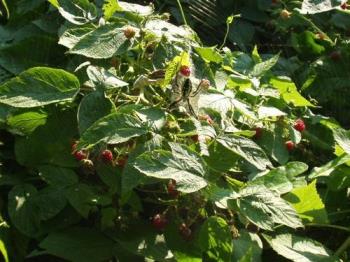 Didn't get the photo uploaded first time. Sorry. Here it is.

• China
9 May 07
hello ,kitkat~! i agree with you . i believe every picture have a story ,also every story have a picture ,maybe you did not take its picture ! but to me , everytime i think of picture ,i will be very sorrow !because when i was a children ,i was fond of being photoed .then there was no camera in my home .if i wanted to take pic,i should ride my bike to a camera-store ,very tired but very happy ! this is the story , although it does not even have a picture !i have the story in my heart for ever !

• United States
9 May 07
I agree- every picture tells a story. Great memories- That is why we take pictures- to restore memories. My mom has some old pictures that her mom took when her and her brothers and sisters were very young. On the back of the pictures Gram wrote down who was in the picture and where it was- even a little about what was going on. This is great! Both my grandparents have passes on but we still have their memories through the pictures and writings on them. It is also amazing to see how far we've come with pictures-

• Australia
8 May 07
Hi Kat, Well today I do not have a cat but I used to have a cat while I was growing up and I loved my cat very much and my cat was grey with big eyes that always seemed to shine when my cat seen me and I was there to help her when she gave birth to her babies and she was always a very kind cat that always loved me being around her and laying on my lap for hours watching the television and playing with me when I used to practise my dancing in my lounge room.