Pets Food

India
May 9, 2007 3:25am CST
Do you serve home made food, that you eat, for your pets also. Some will cook seperately for their pets and others buy pet foods from stores. All my pets are brought up with home made foods, including my pet birds. Home made food gives the homely feeling for pets.
4 responses

• United States
10 May 07
I have always bought dog food but I have also added food that the vet told me would be good for the dogs. For instance, raw eggs help with their coat to make is shiny and silky. I mixed the eggs in with the dog food and noticed the difference a week later. I had also noticed that the dogs stopped shedding as much after adding the eggs to their meal. Now that i have seen all of the recalls, it is no wonder that you opt for making your own pet food. That was a horrible situation that I hope to never have to go through again.

• India
10 May 07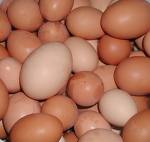 Wonder eggs! Thanks for highlighting the nutritional value of eggs.

• Romania
9 May 07
I didn't buy many times food for my cat because I think that it's more healthful the food that I cook. I don't cook especially for my cat but when I cook for me I share the food with him if he likes this. He likes very much the sausage and before he begin to eat it he always play with t. He never eat the sausage before he play with it.

• India
10 May 07
True homemade foods are healthy for us and our pets. Thanks for sharing.

• Malaysia
9 May 07
Lets put it this way, if I have extra money then my pets (cats) will have food pets from the stores. I will also cook for them if I have that extra time. Otherwise they will just have to settle with home made food, meaning left over from our food.

• India
9 May 07
I, generally segragate the portion of home made food for my pets. I was taught, that pets, especially pedigeries needs same care as humanbeings.

• United States
9 May 07
My Mom said that when she was growing up, the dogs and cats lived on table scraps. We made food for the dogs and bought cat food (mostly dry). Now I buy dry dog food and augment it with raman noodles and occassionally a can of wet dog food. (that doesn't happen too often.) I do add table scraps to their food but with it just being me they don't get too much in the way of scraps. I will say that the dogs are very healthy with the majority of their food being dry with scraps. The dogs we had when my Mom was alive were overweight and under exercised. Neither dog lived as long as they could have with a more balanced diet.