What a great day!

United States
May 9, 2007 4:12pm CST
I just wanted to share with everyone how special a day this was for me. I spent the day with my oldest today... we went on a field trip together with his school. Now, this is special, because we don't get that much special time, just him and me. It seems to be split or shared with his sisters. As far as the trip, well it was fun, but I know why I haven't been on a school bus for over 20 years! My tushie is just too big for those tiny seats! :) We went to a fossil park and found all sorts of neat keepables. Learned a few things about the Iowa praries, and took a hike, found some bullfrog tadpoles. I'm off to take a shower. I feel like I'm covered in creepy-crawlies (ticks.) If you have the chance to accompany your children on a school trip, I highly recommend it! It was so much fun, and a cheap way to bond today!!! :)
2 responses

• United States
9 May 07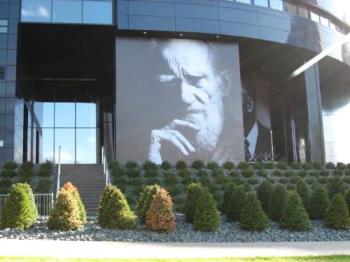 I didn't know you were in Iowa. Howdy neighbor. I'm in Minnesota. I've been to Ames a few times in the past meeting someone I chatted with online. Anyhow being with any one of our children alone is always special. I use to enjoy my times alone with either my daughter or my son. Now that they're both adults the time is far and few between which now makes it even more special. well my daughter visits nearly every weekend but the son..uggg. He shows up maybe once a month if we are sp privilaged that is. Glad ya had a blast. Heres a photo of the Minneapolis Guthrie Theatre where I am taking my daughter and wife soon for a play. I'm hopiong anyhow. Those are my plans as of now that is. Who knows what will transpire in the next few weeks. HAHA!! HAPPY POSTINGS FROM GRANDPA BOB!!~

• United States
9 May 07
Sounds like you have a great time planned! If you ever feel like road tripping, look me up! I live in nashua, where the Little Brown Church is. Have you heard of that? I know my kids would love to play your your young'uns. :) Where in the state are you at? I'm assuming close to the Twin Cities. It's been a while since I've been that way, but it was a lot of fun. Have you been to a little town called Harmony, MN? There is a GREAT cave there you you and the family need to see. (It's close to the Iowa border.) Well, that is if you like cold, getting dirty, and walking for miles. We took the kids there last summer, and they all had a blast! Family vacations are so much fun! Maybe you can borrow a school bus??! LOL!

• United States
9 May 07
I'm in C00n Rapids about 10 miles North of Minneapolis. I've been to the Harmony Caves but my wife children and granbdsons haven't yet. Maybe a summer trip is in order. LOL.

• United States
10 May 07
Thank yo for sharing your day with us. It is nice to hear of parents going on field trips with their kids. My parents never did that. It is nice that your child was happy with you going. I had some friends who hated when their parents showed up.

• United States
10 May 07
We had such a great time. It's nice that he's still young enough that he isn't afraid to give him mom a hug in public. Well, I had a lot of hugs yesterday, from a lot of 2nd graders! They would just come up to me and tell me thank you for coming and give me a hug. Makes me want to go again! :)