Mixed Marriages?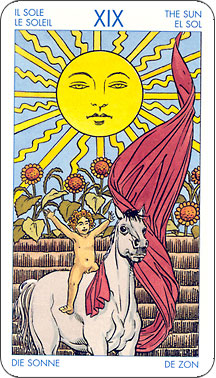 United States
May 9, 2007 5:57pm CST
How many of you have a mixed marriage or cohabitation situation? Mine is only slightly mixed because I am also a Witch but I'm a Strega, which is the kind that is Italian and inherited. So I don't have to actually DO Wicca, it's just to BE a Witch. My hubby is a Wiccan by choice and I must say he's better and better and better at it. He's really improved as a person in the past nine years we've been married. It's still a mixed marriage of Pagans, however.
4 responses

• Murfreesboro, Tennessee
10 May 07
I'm Pagan (Celtic Recon actually) and my husband is Christian (by his own definition). While some of the things he does could be considered "pagan", his highest allegiance is to the Christian God. It's a strange thing. When I was young I had some really bad experiences involving people using Christianity as an excuse to abuse me, and when I first met my husband online, I was a little afraid that religion would be a problem between us. But being with him has proven to be one of the best things that has ever happened to me. =) I think really the key to a mixed marriage is respect for one another, and acceptance that it always will BE a mixed marriage. I've known a lot of people who have gotten married and clung to some hope of converting their spouse, and it almost always leads to disappointment.

• United States
11 May 07
I agree about the converting part! That's good that each of you respect the other's religion. I go along with my hubby's Wiccan traditions but my heart's not in it. He knows that, but wants my presence anyway. I observe but don't paticipate. So far it has worked. I hope it continues to. Thanks for your insightful response.

• Murfreesboro, Tennessee
11 May 07
That does sound hard, going along when your heart isn't it. For myself and my husband... we sometimes go to a Unitarian Universalist church (which is for people of all religions) and we do sometimes participate in each other's holiday celebrations. It is very nice to be able to participate together, but also nice to know we can always sit out if we prefer. I think we're pretty lucky in that we've learned what works for us. We've been together for 8 years now, and married 3 years on the 15th of this month.


• United States
11 May 07
Thanks, Rosie. I'm fine. After you expained it, I know it is okay. My dad is a Catholic and my mother a protestant. And, there were never any problems. I really felt quite lucky because I got to know both religions and came to the conclusion there really isn't as many differences as most people think.

• India
2 Dec 07
what is wiccca and what is witch, I thought that existed in harry Potter only? I didn't knew that people follow such beliefs in reality too. The way MyLot open your eyes. Regarding your question I think if you two get along well and ready to adjust with eachother's beliefs it should never matter which belief you follow. I know people with same beliefs in religion also have tiffs and their families too break apart. Marriage is just plain and simple adjustment thing is how far you are ready to adjust and where you draw the line.

• United States
3 Dec 07
Hi! There are a bunch of Wiccans and Pagans on Mylot so perhaps you'll get to know quite a bit about these beliefs here. That's a very cute avatar! Hubby and I don't really understand each other's ways too well -- it isn't something that lends itself to detailed analysis. So we muddle along. I'm not really comfortable with his Wiccan ways and he takes my Strega gifts for granted. (sigh) Could be much worse and we are happy -- even if we both feel misunderstood a lot concerning our individual beliefs.

• United States
6 Jul 07
I follow the Wiccan path (and if labels need to be given, I would call myself and Eclectic Witch) and my husband follows Shamanism. I don't think that relgious difference matter as much as the respect for the others beleif system. I know many who follow Wicca and have a Christian spouse. My best friend in the whole world is Christian and her husband is Catholic. Its all a matter of love and respect.