Mother's Day Poem written by yours truly!!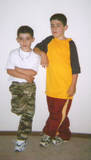 United States
May 10, 2007 8:44am CST
I thought I would share this with all my friends here at Mylot. I wrote this some years back for my boys!!Precious Gifts I've gotten two precious gifts, Which are too miraculous too describe. I keep them close to my heart, Their love locked deep inside. You see without these two gifts, A mother I would not be. I give thanks to God above, For these blessings he's given me. The most precious gift in life, Is not a material thing. The most precious gift is a child, Who with just a giggle makes your heart sing. When asked what I received, For Mother's Day this year: I'll simply respond "two precious gifts."With a smile and a joyful tear. Michele Renee Alfonso Copyright ©2007 Michele Renee Alfonso
4 responses


• United States
20 May 07
Aww Mish that is awesome. Your very crative with words. Maybe not crafts but words you are!

• United States
20 May 07
thanks chiquita banana.. I appreciate it. :)

• Philippines
11 May 07
Wow, monkey, you can be a good poetry writer. I can write some short articles but not poetry. I can't expressed my feelings very well when writing an article. Its like you are reading a book only. Thanks for sharing this one, monkey. Happy Monkey's Day to you, LOL!

• United States
11 May 07
and Happy Bunny's Day to you !! Thanks for the compliment. I have some of my poems on Poetry.com .. my sister put them there as I am very self conscious about my work.

• Philippines
27 Jun 09
I have two girls, misheleen, and they are truly God's greatest gifts to me. Keep writing poems. I'll keep reading.