Do you like rains?

India
7 responses

•
10 May 07
I love rainy days, so im happy to live in England. Today it was quite sunny for a few hours but them it started to rain and i decided to take my dogs out for a walk in the rain. I could of took them out in the sun but there is something about walking in the rain that makes me feel so comfortable and happy its hard to explain, weird but true.

• Philippines
12 May 07
there are times when we feel like getting drenched in the rain. the rain carries with it some healing effects in the living.

• Philippines
12 May 07
everyone welcomes the rain after it has been absent for a while. when it comes pouring by days, we pray that it stops. it may be a sorry thing, but until now, humankind is still within the claws of mother nature. we will always welcome a good mix between sun and rain and, suffer the consequences from the absence of one for sometime, and the lashing of the other at times.

• United Kingdom
11 May 07
Rain in the UK can make me feel a bit cold if I am out walking. I don't mind it too much though. Snow would be worse as it is easy to slip over. One time I was in Poland. It would not stop raining. Somebody was selling very cheap rain coats. They did very good business! Rain in tropical places is so much more fun. The weather is hot and I soon dry out afterwards. I remember the most fantastic thunder and lightening storm on a beach near Darwin in Northern Australia. Walking back into town afterwards the road was quite flooded. I got splashes of water all over me every time a car passed. I remember being in New Zealand when it rained so much it broke a bridge. It was mended quite quickly. But for a few hours I was cut off from town as I was up a hill near the youth hostel I was staying at.

• India
11 May 07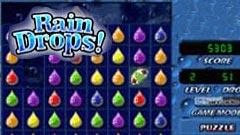 I love rains:) .. It rained here today in Delhi .. It rained truely heavily .. but I don't like when immediately after rain .. sun came out .. it only ends up in humidity ... I like the weather without sun after a rainy day .. with cool breeze:)

• Philippines
11 May 07
I had a discussion similar to this one which I posted months ago. I really love the rain and I still play in the rain whenever I get the chance. Sometimes I intentionally have myself get wet in the rain, clothes and all. I love how it feels on my face and invigorating way it refreshes me. It doesn't only wash away all those cobwebs but it also lifts my spirit.

• India
10 May 07
I love rains and specially the first rains of the season which leaves the distinct smell of wet mud behind. Inspite of being so fond of rains i don't remember the last time i went outside to get drenched.

• Singapore
10 May 07
i love rains.Its where i will feel the natural cold other than the AIR CONDITONER here.Rains is like a miracle,i like rainy days.When relaxing at home,rainy days is the best..i feel very warmth and relaxing.Prays to god during rainy days is one good deeds that i love doing.