Do you tie your shoes or always just slip them on?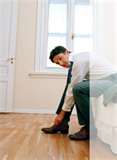 United States
May 10, 2007 8:58pm CST
every time i put on my shoes i have to sit down and actualy tie them. I never slip them on, like all my friends do. All my friends always give me a hard time because every time we want to go somewhere they have to wait for me to tie my shoes. And every time i get home (and i don't forget to take them off) i always untie them, most people think im weird. Do you people like to tie your shoes or do you just slip them on like slippers?
2 responses

• United States
11 May 07
It really depends on the day. Sometimes I can slip them on, other days I have to actually untie them, put them on my feet and then tie them again. Other days, I don't even want to bother with tying my shoes so I'll just put on a pair of sandals.