Can second hand furniture also cause allergies to flare up?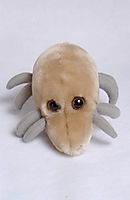 United States
May 10, 2007 11:49pm CST
Before we we moved to the USA, my son never had allergies. Over the last month or so he has had a constant cough, sneezes at times and the occasional watery eye. After several visits to the family doctor, she thinks its all to do with allergies, so hes on medication for now. The thing that has been the worse is his coughing where after five weeks he still has (not so bad now but only early in the mornings or evenings - mostly when the pollen count is high). I've noticed that when he plays and or jumps around on our second hand lounge furniture (sofa, love seat, single chair) he starts coughing badly. I've vacuumed all the chairs and still he seems to have a coughing reaction to them. I don't know what else to do other than get rid of it and buy new furniture. Any suggestions?
3 responses

• Singapore
11 May 07
It may be possible the second hand furniture is causing some allergies, especially if they are cushioned. Perhaps move the furniture to another room or keep him out of it. Or could it be something else - the air or other things he come into contact with.

• United States
12 May 07
Could be. I think its the carpet as well - I'm going to hire the "rugdoctor" and give the carpet a good clean this weekend. Thanks whyaskq!

• United States
11 May 07
mites would be my first guess,though there's a possibility he could be allergic to either the fabric or the stuffing of the furniture too. i would see if there's any upholstery cleaner to lessen allergies..failing that,you could get them re-upholstered if you want to keep them.

• United States
11 May 07
You got it right in your picture, dust mites may be the cause. I'd first try steam cleaning them with one of those allergy cleaner/soaps they sell at the store. Not sure how well they work though, never tried them. Otherwise, you'll probably need to buy new furniture....good luck and hope he feels better!! Another thing you can try, I've read this in a few places actually, find someone that sells "local" honey. The bees get the pollen from the area they live in, and use that to make their honey(I'm probably not explaining this exactly right lol). Eating small amounts every day of the honey local to your area is supposed to help people who suffer from hay fever and such. Talk it over with your doctor first though to make sure it's safe for him.