Comics: What is your fav Comics?

India
May 11, 2007 9:03am CST
Hey all,Please tell me your fav comics ever as mine is CHAMPAK, i love to read champak stil, it keep me back in time whenever i read this comics. I am in india and others good comics ARE Nagraj, Dhruv, Chacha Choudhry, pinki and most hillarius Tenaliram. What is yours??
9 responses

• India
13 May 07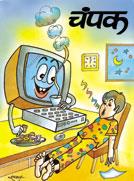 Hello misdss I also like to read CHAMPAK .. Lotpot, Twinkle, Nagraj, Chacha Choudhary, Pinki and yes the hilarious one Tenaliram.. When in school I used to have library period -- in the library me and my friends used to read this comics and enjoy a lot:) ... oh but those were the good and memorable school times ..

• India
11 May 07
I love Dhruv comics and its really a great hero beats very powerful Villons with his mind. i think it can be great if A cartoon series on Dhruv is made what you think.

•
23 May 07
The Watchmen and From Hell are both excellent comics from Alan Moore.

• United States
16 May 07
Well in case you couldn't I love the smurfs. I'm also a big fan of peanuts. gotta love snoopy, and most of woodstock,I have hand puppet of woodstock from met life. I also absolutely love Garfield. I remember reading the books when I was younger. They were funny enough I got into trouble a lot at night because I would be giggling instead of sleeping. But I'll tell you what, read them when you get older, they're 10x's more hilariouse, Jim Davis new how to appeal to the odler crowd with the witty sarcasm from garfield. I had to see the movie when it came out. Now when my dog is my couch or bed, I tell him "down dumb dog".

• Indore, India
16 May 07
How can you forget Amar Chitrakatha and also magazines like Nandan, Madhu Muskan. I don't know whether Madhu Muskan is still printing or not, but it was a wonderful magazine. Tinkle and Chandamama are also unforgettable.


• United States
11 May 07
It's been a long time since I've read comics but I liked Xmen, JTHM, Squee and Sandman.

• United States
11 May 07
My favorite comic series is Sandman, by Neil Gaiman. I have all of the graphic novels, and some of the individual comics, and love re-reading it whenever I have the chance.

• Netherlands
11 May 07
I like the good old comics like spiderman, x-men, etc. Although I don't read them all that common anymore these days.