Adding another 20 years to EB's 28 years...Who do you think will run the show?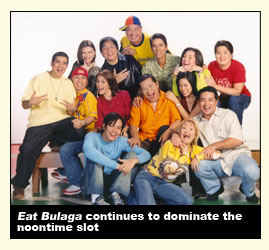 Philippines
May 11, 2007 12:53pm CST
We all know that vic and joey are too young at their age while tito sotto is running for senate. If we add another 20 years or rather 28 years to EB's 28 years, who do you think will run the noontime show? for me, they maybe continue even without the TVJ, and perhaps their own sons and daughters will do the rest for their father. Do you like ciara to continue what tito sotto had contributed in Eat bulaga? I like kempee but ciara? there are times I got irritated to her, I dont know why, maybe because sometimes she's kinda exaggerated into her action. Just an opinion, nevertheless, im pretty sure that I still support EB even if TVJ are not there.
3 responses

• Philippines
12 May 07
i agree michael v, keempee, and janno would be a perfect replacements for them allan K will be perfect too, gladys but not pia har har har

• Philippines
12 May 07
it does shows that everybody loves EB.. Are you unhappy the way how Pia Guanio host the show?

• Philippines
30 May 07
yeah i don't like the way pia delivers her punch lines its soo boring and corny she's a good host but not a comedian i hope she should remain the same instead of trying so hard like that

• Philippines
12 May 07
TVJ will be very old by then, and we're not sure if EB will still be airing. If EB is still there I think the present co-hosts like Michael V., Janno Gibbs, and Keempee de Leon would be great replacements. They're talented and have great sense of humor just like TVJ.

• Philippines
12 May 07
hi mizrak07! thanks for the coomment.

• Philippines
28 May 07
that why having dabarkad's they making some exposure to it they practicing on joke's and singing maybe even without TVJ there will be EB for sure they use other cast to run the show like Michael V, Kempee and Janno MKJ instead of TVJ...