A beggar on the street ask you!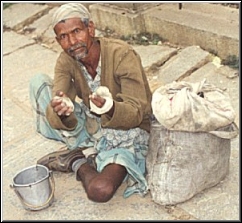 Philippines
May 11, 2007 10:19pm CST
This is very common in most cities. Well, do you give them 1 cents or 1 peso? Here in our place, there is a ordinance that it is not right giving charity to those people in the wrong place. I do agree with that but, still, you won't give them anything?
5 responses

• Philippines
12 May 07
Most of the time I dont give cash, what I am doing was to buy food for them and dont leave them with the food but instead I do watch them eating the infront of me. Why? My reasoning was very simple if you left them with the food, it might be under the control of some sindicate so as if you let them eat infront of you that food will surely be eaten by that person. Because there was one instance that I have seen a beggar surrender the food to their boss...And I dont want it to happen again. I just dont know why in this world there are opportunist who capitalizes the weak and the poor...

• Philippines
12 May 07
I really look first on the beggar before I give. Here in our country, some people had made begging as their way or means to earn (job). So I really try to look closer to see and determine if I'll be giving to the one who really needs (there are some who are begging with a body bigger than mine). Amount is not important as long as you gave it willingly.

• China
12 May 07
yes,friend,i often give some coins to the beggars on the street in my place.but i will give the olders or children or some handicapped.oh really?what is the ordinance in your place,i want to know it .lol....

• Philippines
12 May 07
I don't know the whole ordinance, I mean, I can't state it word for word. I only got the point that helping people in the street is not right... I you really want to help, you can donate to charities or any other organizations who really cares for those people.

• Philippines
12 May 07
I am aware of the ordinance here in my city yes. I usually don't give alms to the beggar on the streets, though my heart breaks to see their sad plight. But i am doing things to help those needy in other ways like donating to charities and being involved to church activities that concerns the less fortunate one.

• United States
12 May 07
I have given money to strangers on the street and their have been times I have said no also. More often than not I usually give what i can spare the few times i have said no its usually been cause somethign about the situation told me to say no. I always try to go with my gutt instinct.