Color?

Norway
May 13, 2007 6:23am CST
What color has yuor dog? Mine is a black puddel who is so cute its only 4month old and i love it.
5 responses

• United States
14 May 07
My dog is buff/blonde. She is a cocker spaniel. She is two. She is registered and her name is Sassy Sue. We love her so much. She is our daughter and we try to take her everywhere with us on the weekend and in the evenings when we can. She is a very smart dog.

• United States
13 May 07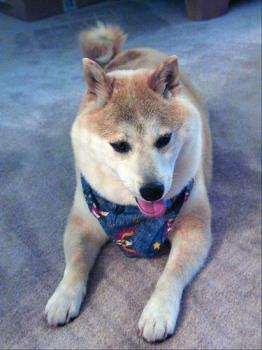 My dog is blonde and white with grey fur on the top of his head between his ears. He is the cutest! I hae added a picture of him for you too see.

• Denmark
13 May 07
Mine is sort of light mocca... Very light brown / yellow... It's a lab :-)

• Netherlands
13 May 07
Mine is dark gray with reddish blond spots here and there although he's slowly starting to turn real gray on a couple of places.

• Germany
13 May 07
My personal dogs are cockers and have the colors: blue/roan and tan, black/white and tan and black/white. I would love to get a brown/white again. I once had two of them but they are very scare. So I had to settle for the variety with black for the last couple of years.