Venture Bros. Do you like it? Who is your favorite Character?

United States
May 13, 2007 5:06pm CST
Venture Bros is shown on cartoons Network's "Adult Swim" time slot. Like many of the cartoons shown at this time, this is definately a cartoon not for kids. That said, this show is HILARIOUS and very clever. It now has 2 seasons and I can't wait for season 3. Do you watch the Venture Bros? If so, who is your favorite character. I actually think all the characters are great...there isan't a bad one in the group...but one that especially cracks me up is Dr. Orpheous, the Venture's tenant and resident necromancer. Are there any other Venture Bros fans out there?
2 responses

• United States
14 May 07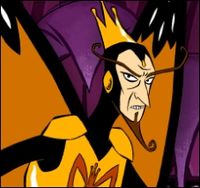 I love Venture Bros. It took me a few episodes to get really into it, but now it is safe to say that I am completely hooked. I was worried that I wouldn't get a lot of the jokes because I didn't like Johnny Quest that much as a kid, but wow is it a funny show. My favorite character is the Monarch. He is both the best and worst arch nemisis of all times. I just loves how much he hates Dr. Venture, and I also love his relationship with his sideick...opps, I mean partner, Dr. Girlfriend. My friends and I are thinking about dressing up as Venture Bros. characters for Halloween. I think there is a lot of potential for some really crazy and funny things from that show.

• United States
14 May 07
I'm so glad someone responded to my discussion! I was bummed out there were no other Venture Bros. Fans. I think a Venture Themed Halloween would be AWESOME. I've seen some funny costumes that people have made in pictures online. I think The Monarch is a challenging costume, but if you have a friend who is good as costuming, i think it has the potential for greatness. I think I would want to be Dr. Girlfriend, or one ofthe Monarch's henchmen. I've finished watching seasons 1 and 2 and can't wait for season 3!!

• United States
14 May 07
I was just telling my friend how excited I am about the third seaon. There is a ton of stuff that can happen from this point forward and season 2 was just soo good. I'm hoping that each season is going to be a little better than the last one. Dr. Girlfriend would make a great costume!

• United States
15 May 07
Oh, I know what you mean. There are a lot of shocking things on the show, but some of the best humor comes from when simple things are made even more dramatic. Like when the Monarch had a double date with The Phantom Limb and Dr. Girlfriend. A double date is a pretty normal thing, but add super villians...and you get pure comedy!


• United States
11 Dec 09
I love the Venture Brothers, the cast is so amazing and filled with such phenomenal characters, I have a hard time picking my favorite. Brock comes to mind, so does 21 and 24 there geeky arguments just rocks, the Order of the Triad, the Monarch, the boys, I... yeah I just love them all. It's just so great and keeps getting better and better every season.