Do you feel uncomfortable talking to people that wear sunglasses?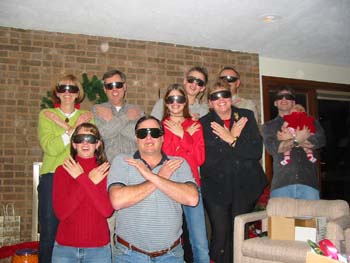 United States
May 13, 2007 5:15pm CST
Okay, so someone is wearing sunglasses and is talking to you. You cannot see his/her eyes, and you think it's weird, perhaps he/she isn't looking at you, perhaps day dreaming, sleeping, or whatnot. In fact, I was talking to someone before and they fell asleep! I had no idea until I heard the snoring. So, do you think it is rude to talk to someone with sunglasses since we cannot see their eyes or their expression in their eyes that tells us they are bored, happy or whatnot? Do you ever get uncomfortable with talking to people with sunglasses? I was always taught it was rude to talk to someone with sunglasses on so if I can (unless it is very sunny or something like that) I will take them off. Let's see what other users have to see. Pablo
3 responses

• United States
14 May 07
I do sometimes think it is rude...but unintentionally so. I do not think the wearer is usually even thinking about his having sunglasses on, and if we are outside and the day is bright, it is understandable. If the person has vision problems he may also need the sunglasses - or if he suffers migraines. however, usually if someone is wearing the sun glasses inside it seems a bit of a show off and rude. plus, how can they see? I think it is funny when professional poker players wear sunglasses inside while they are playing cards - they do not want the opponents to see their expressions.

• United States
14 May 07
Yea, unintentional sometimes, but I have seen people in stores with sun glasses on, that is really rude, right? Hehehe, yea, I do remember seeing poker players with sun glasses on. Once, I remember seeing a moving of this guy who was overing taking the city with all these businesses and he was wearing black sunglasses inside! It made him more even ;). Pablo

• United States
3 Jun 07
I'm giving you the best response because you give many reasons why people may use sunglasses. However, there may be responses that come along that I like better. The fact of the matter is, that you responded when there wasn't a lot of responses. I think your response is the best for now, and I will give other people honorable mention if they give a good response. Have a nice day. Pablo

•
13 May 07
Yea i feel the same if they are really dark sunglasses which you cannot see the eyes, if they are light and you can see an outline of the eyes then im fine talking to the person, my mum has a friend who does it, wears sunglasses and makes out that they are listening, its so rude and infuriates me if they do it!!!

• United States
13 May 07
Yea, I know. I just was taught it was rude and that people feel uncomfortable so I try to take them off, plus I noticed some people tend to "day dream" and/or nap when they have them on, right? Pablo

•
13 May 07
Ive never known anyone to nap with their sunglasses on but if they did that to me then i would have to do some serious damage because that would infuriate the hell out of me, i would be so mad and screw at them so hard they wouldnt know what hit them!!!

• United States
14 May 07
Well it happened when the person was sitting so perhaps he was sleepy? Hm, yea it makes you made as well as me because we have a conversation and then you can't talk because the person is sleeping :( Pablo

• Singapore
14 May 07
Yes I do. Like I once mentioned in my avatar discussion, I think it is quite rude. If you have e.g. sensitive or sore eyes, that is something different of course. Otherwise, it would be nice if you remove your sunglasses before talking.

• United States
14 May 07
Yes, I agree with you, it depends on there person and the context. Obviously if it is sunny and very bright out I can understand, but if it is dark and they don't have sensitive eyes then they should take them off :)