one calico's opinion..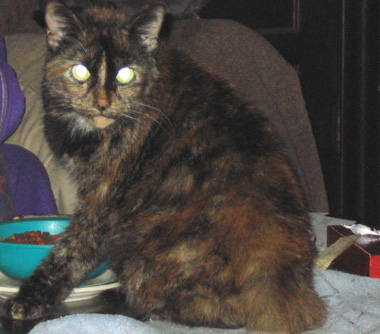 United States
May 13, 2007 8:09pm CST
some of you may remember my thread about unethical realtors... well today my little calico female (also known as the evil princess) decided to shred the phone book,and make a nest of the pages. i was going to yell at her,until i noticed what she shredded.the whole real estate broker section. heh:) nevermind.GOOD girl:)
8 responses

• United States
14 May 07
I think she knew that you'd like that area ripped up :) She knew she wouldn't get in trouble as much as with other areas at least. Sounds like a good kitty to me. I know some cats more then others like to shred paper. I have a fondness for calicos, I actually have 2 of them, and they can have an attitude at times. They both think they are queens of the world.

• United States
15 May 07
calicos are the most wonderful,independant personalities,aren't they?:)i swear they are unique. i've never had 2 at once-that must be interesting. this one is a queen too.she's younger than my other 4,but has become alpha..

• United States
15 May 07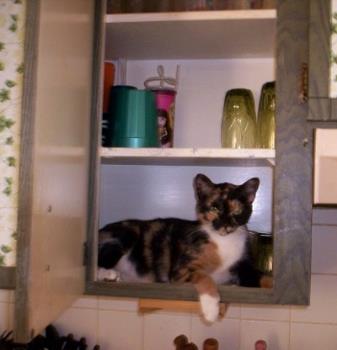 They are wonderful. Patches is more of a mother figure to the other cats. She can be very loving but she knows she's head female in the house. Piper is 2 years old but she's the size of a 6 month old kitten, trust me she eats but she's just stayed tiny. I've never had a cat do that. I've had runts of the litter (so small the mother abandoned them) and they always got big but not her. Below is a picture of her as she tried to make the glass cupboard her bed. You can tell by her look she didn't like me disturbing her.

• United States
15 May 07
oh my..i've seen that look LOL she looks like she has definetly claimed that cabinet as her own.she is beautiful:)


• Ireland
15 May 07
No wonger the ancient Egyptians used to worship cats and treated them as dieties. Brillinat little calico kitty! Make sure she is on door duty the next time those vultures call around!

• United States
15 May 07
heh:) i'm not sure i hate even them that much to turn that one loose on them :)=) she has 7 claws just on the one foot LOL

• Ireland
16 May 07
Sounds like a cat to be reckoned with. I say turn her loose and watch them run!

• United States
16 May 07
LOL!that's one way to get our house off their lists :)

• United States
15 May 07
Smart kitty! It would be nice if she shredded the the lawyer section,too. lol. We are inundated with lawyer commercials trying to get people to sue,sue,sue.

• United States
15 May 07
LOL! i could suggest it to her-i'm sure she would happily shred another section :)

• United States
15 May 07
Any other bad sections you can think of for kitty to shred,lol? I think I better keep a close eye on my kitty.I don't want him getting any ideas.My kitty loves to shred the paper towels.

• United States
15 May 07
hmm.. maybe the doctors..then she can have a set of the big three LOL

•
15 May 07
PMSL Calico is definitely a clever little cat, she knew exactly which section to shred and I'm sure she has made herself very comfortable too. I guess the next best thing would be for her to use that section as a litter tray - lol

• United States
15 May 07
i'm sure she would too LOL i have a picture of her "nest" up in my photos if you want to check it out.she looks very proud of herself :)

• Australia
14 May 07
Are you talking about your cat here? I am not familiar with your discussion about unethical realtors. One of cats adores tearing up paper, thats why I'm thinking it is your cat you are referring to. No paper left on our kitchen table is safe from our cat. She has even torn up a bill, & my daughters excursion note!

• United States
14 May 07
yes-my little calico,the trouble maker LOL your cat must like paper bags too like this one does. she's even chewed an eyehole in them so she can watch while playing:)

• United States
14 May 07
Oh that's funny...think your cat is psychic and knew just WHERE to shred??? give her a hug for me

• United States
14 May 07
houses upset mommy..i eat! LOL it did seem like she knew :) maybe if the light is good tomorrow i can get a pic of her-she is proudly sitting on her nest presently. hugs given-you got happy tail back

• United States
14 May 07
Well - at least it wasn't your best shoes that had sentimental value, or that out-of-print book that you only started reading. My first dog had used a pair of old sneakers that I had outgrown, & was pretty much well-worn. That was when the family learned to keep these things where it was not easily accessible. We also had an old living room furniture that had scratch marks all over the legs because of the cat. Being that the furniture was from the 1960's (I think that was also when we got the first cat also.) no one knew anything about special things like a scratching post that can be purchased for the cat to climb with its nails.

• United States
14 May 07
I honestly have no idea why people choose to have cats as pets. They have horrible attitudes, they scratch people, and I'm allergic to them =(

• United States
14 May 07
she's the only one out of my 5 that has a real attitude.she can be sweet when she wants to be.