What's your favorite Mokona?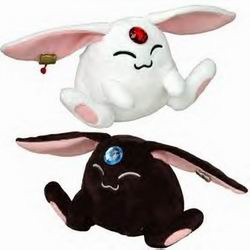 Brazil
8 responses

• Brazil
14 May 07
Hello, I dont't have a favorite one because I don't get I decided among two such soft thing it is impossible

• Brazil
14 May 07
I like the black mokona becouse of the appear, and the white becouse of the personality! white mokona is really funny and black mokona is a drank mokona XD

• Philippines
14 May 07
I like the white one, though i didn't really notice this in magic knight rayearth but when i started watching tsubasa chronicles that was the time i notice mokona the white one. White mokona was really cute and its voices sounds very little and it fits for his personality.

• Philippines
14 May 07
i like the white one. white is the real mokona. the black one is modoka, thats his name. mokona is so cute and looks really fluffy and hugging mokona feels like your hugging a cloud. lol he just look so fluffy. I bought a mokona cellphone strap its cute i wish i can post the picture but i dont know how. and planning to buy a cute mokona stuff toy.


•
19 Feb 11
i don't know? i like them both! they are so cute! And thy are both so useful!

• Philippines
11 Jul 07
i like the white one's personality, soo cute and sweet! but the black one's funny too especially in xxxholic because he likes to annoy watanuki and always drinks with yuuko lol