I love watching my finches and humming birds.

United States
May 14, 2007 10:54am CST
Do you have feeders up for birds? I have wild bird feed for all other birds. Thistle for the finches, which golden finch is the most common one around here. We have maybe one green finch and a few blue finches so far this year. I have had 3 humming birds so far. I love watching these. They are so amazing.
2 responses

• United States
15 May 07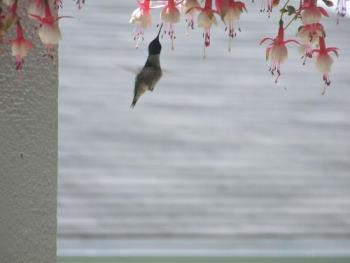 Are you sure you are not my twin? not long ago today I posted in the gardening post about my hummings birds and you pop up with a humming bird story, now how cool is that?We had one finch feeder out and we had to add another one because the poor things were fighting all the time and emptying it almost daily, now that we got two it looks like we could have 3 or 4 lol but im drawing the line at 2. adding a pic of my humming bird below.

• United States
15 May 07
They say we all have a twin somewhere in the world, so we may be. LOL I love your picture of the hummingbird. I love watching them and love watching my busy finches.


• United States
15 May 07
Oh, I love to watch these hummingbirds and finches. We have to have our feeders fixed to keep the squirrels out of them. We have their feed on back in the woods. IT is so much fun watching all the wildlife around here.