monthly nationwide driving boycott!!--be a part!--starts sat., june 16, 2007!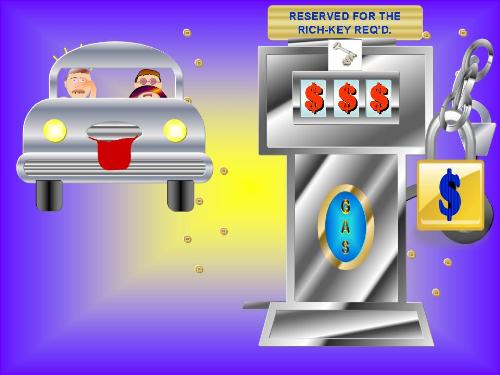 United States
May 14, 2007 5:45pm CST
In order to really make a dent in the oil compay pocket books, I'm convinced we MUST STOP DRIVING...MUST STOP USING their products! It is not enough just to stop buying it for one day if we're still going to consume the same amount we always do anyway...just that we're filling up ahead of the boycott so we can continue to "use" it on the day OF the boycott. So...in line with the boycott for BUYING gas (etc.), I'd like to propose we spread the word we're going to have a "NATIONWIDE DRIVING BOYCOTT" on SATURDAY, JUNE 16TH, 2007. EVERYONE STAYS HOME...or, drive to your desired destination the day before, then stay put for the 16th (it's a Saturday!). Just DON'T DRIVE until the 17th. Then...in order to REALLY get the power back, we must agree to do the same thing...say, perhaps once a month? OK...that's it, then...we'll have a MONTHLY NATIONWIDE DRIVING BOYCOTT...EVERY MONTH ON THE THIRD SATURDAY OF THE MONTH! PLEASE SPREAD THE WORD! THIS WILL GET THEM ON THEIR KNEES, FOR SURE! ARE WE REALLY IN THIS TOGETHER??? ARE WE REALLY TIRED ENOUGH YET?? HAVE WE REACHED OUR POINT OF 'INTOLERANCE' YET?? LET'S (NOT) ROLL!!!!! PASS IT ON!
4 responses

• United States
15 May 07
While I applaud your efforts "to do something", some of us use our cars to make a living. We can't just simply quit driving for one day. I must drive every single day of the week and believe you me these rising gas prices are eating right into my profit margin. I know I'm not the only one either. However, if I could buy a car that drives on water, or uses magnets...well, I'd switch in a minute. Of course, just like the hybrid cars the prices would probably be kept on the higher side until the oil companies can milk us for all it's worth.

• United States
15 May 07
I truly do understand, trust me! I've retired, and my "income" has dropped significantly...thus, we're on a much tighter (I like to call it "discretionary") budget. So, we're perhaps a bit more "able" to stay at home more and drive less. And that's ok...if we can do that as "our little part", and others who might have similar freedom to do something similar, and another, and another....I know everyone can't participate equally. But I think everyone actually DOES participate, unless they're wealthy enough that gas prices don't really affect them all that much. THEY will always have their supply; it's those of us who are a bit more 'financially challenged' who will be squeezed out more and more as prices continue to rise. I'm with you on the hybrids, too; I do think they're a good alternative, as they're very economical (45+ mpg?) and so far, reports are not bad from owners, either. Anyway...I don't mean to 'babble on'... Thanks for the post, and good luck in managing your gas 'funding' needs. Keep the chin up, too!

• United States
14 May 07
I agree. I haven't had a car for over a year. My recently purchased vintage car is in the process of restoration, but will never be more than a "good weather Sunday" car. As soon as I can afford to replace the engine, it will be converted to biodiesel ;) Bikes rule! No need to pay for a gym membership for me.

• United States
15 May 07
I certainly "commend" you, CatNPK! I see your City/State in profile; you must live in the city proper, where you can get to most of your "commitments", "schedules", etc. with either your feet, your bike, or local mass-transit systems? In that, you are probably very fortunate, as relates to being a 'slave to the oil companies'. You can snub your nose all the way to the bank at them! Bravo and congratulations! Thanks for the post.

• Netherlands
14 May 07
I doubt you'll be getting much support on this, especially something monthly. In the old days this was something still done every now and then, but these days so many people are dependent of their cars as a method of transportation at every day of the week there's not really any possibility to stop driving like that.

• United States
14 May 07
I'm sad to say I agree with you about not getting much support on this. And...the oil companies know this too. Which is why they continue to freely increase prices. I fully understand that people have "commitments" and "schedules" and "requirements" and "desires" and so on. And, maybe some of those things are actually part of the whole problem; i.e., we've become so dependent on "being mobile" that we've over-committed, over-scheduled and over-stressed ourselves to where we're running all the time! Maybe it's these "overages" we need to revisit. Perhaps we can't keep taking Susy to piano lessons for a while. Or, maybe Jimmy can't play after school soccer this season. Or, perhaps we'll have to decline when friends in another state invite us to a barbecue. No, these things are not "easy", but I believe they might just be necessary, in the long run. Time will tell. Thanks again for the post.

• United States
14 May 07
I agree with you that we as consumers have to take back the power from the oil companies and decide that we are tired of the high gas prices. It will take us deciding to stop driving a few days to really make an effort to get them to drop prices. As long as the demand is high, they will continue to raise prices. My daughter and I have gone to work at the same place so that we can drive to work together and if it continues to raise, I am going to find a job within walking distance so that I dont have to drive. It is not fair that they are making such high profits and yet, those profits are causing a lot of families a lot of heartaches. Deciding between gas and food or lunch etc. IT isn't right!!

• United States
14 May 07
Thanks for the post. I know how hard it can be for families these days. I'm retired, so am on a 'fixed income', and driving around for the sake of driving around is no longer an option for us. But, we're ok with that now. At $3.00 per gallon, in a vehicle that gets 20 mpg, it amounts to throwing 15 cents out the window every mile....just for gas! That might not sound like a lot, but let's face it...that's just the cost for MY driving. Then, I'm also paying for the increased cost of shipping goods; food, etc., etc. Petroleum (oil) is one product which sits near the very base of so many other products and services; so when prices change at the "base", the ripple effect is huge! I still say we must stop driving as much. I believe many people are already driving less than they might have even 6 months ago; but certainly less than a year or two ago, I'd guess. I know we have curbed ours quite a lot over the last few years...partly because I've retired and we need to use a little 'discretion' regarding our 'budget'...and partly because we really just don't want to give any more of our money to Big Oil than we really have to! We're still working on it, though...we can still trim down the driving; just have to learn to stay home more.