Will you be boycotting your local gas station this May 15th?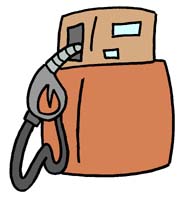 United States
May 15, 2007 12:28am CST
I will! What about you, are you going to boycott and not buy gas may 15th?
3 responses

• Canada
15 May 07
Yes!! Their is no way that I am going to get gas today (Tuesday May 15th) I doubt that people not getting gas will put the price down though. I really wish something could be done though because our gas is at 117.9/litre which for those of you in the States works out to ust about 5 bucks a galon. It is disgusting and I can barely afford to go anywhere anymore.

• Canada
16 May 07
Your welcome for responding. I doubt it made a difference not getting gas that day but hopefully the prices get better soon. It's getting too expensive to go anywhere.

• Canada
24 Jul 07
Thanks much for best response! Since this post gas has actually gone down a little bit! Hope it stays that way =)

• United States
15 May 07
You know, I want to... but I just don't know if I can. It's a great cause, and if it works then that is great short-term, but I have to get to work and public transportation isn't an option for me, at least to get to the commuter train. If I have a need for gas, I will probably have to get some for my car. That's the thing about these days, it's tough because gas is so essential. If public transportation was more accessible from my home, then maybe I could have gotten away with not using my car at all, but unfortunately, I don't have that luxury, and I don't think that I can afford not to go to work at all, cause that would defeat the purpose for me. If I don't need to gas up, though, I will support the cause and not gas up... we'll have to see how it works.

• United States
15 May 07
YES! We will. No gas tomorrow, it's getting to expensive now. I say there has to be another way to make gas more affordable for us.