What should be the basic approach toward life?Practical or emotional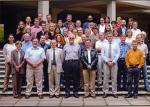 India
May 15, 2007 2:24am CST
I have seen people with too much practical approach towards life not enjoying good family life or too much emotional approach giving lots of problems.Actually it should be an ideal combination of both.One should neither be too much practical nor too much emotional in his life & thinking.What are your views?
4 responses

• United States
15 May 07
I think just following your heart and using your best judgement will lead you for the most path in the direction you want to go. I mean, who knows yourself better than you right?? I think its a fine line to walk, but it can be achieved - even if it means living for a long time very tunnel visioned not enjoying life to later on enjoy it fully :) Life is a rollercoaster, I think the more you ride the more you get used to it.

• India
15 May 07
I agree with you because both should been applied whenever necessary to make the life beautiful.Emotional minds never allow us to take good decisions and while we are in a tough situation we should keep calm to avoid bad decisions.But always being practical in all aspects will not lead a good impression on our loved ones.

• Pakistan
15 May 07
i think in personal life you should have a bit emotional approach and in your professional life you should have prctical approach