Are more or less likely to deny an exconvict the same rights as yourself?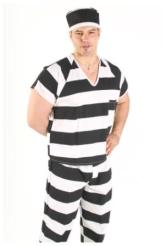 United States
May 15, 2007 6:10pm CST
More and more with the new technology we are finding people who spent decades in jail for a crime they were committed of and are now being found innocent. Then there are those that did the crime and did the time and unfortunately they were first time offenders. Last but not least there are those who are habitual criminals with records as long as the East is from the West. Do you find yourself shying away? Do you feel an ex con has the right to get a good job or proper housing? Would you feel comfortable living or working around one?
1 response

• United States
15 May 07
If it was a habitual criminal living or working next to me I would be very cautious around them. No I do not think that a repeat offender has the same right as I do. I have never been arrested a day in my life, I live my life obeying the laws that are in front of me so why should a criminal have those same rights as me..he has been in and out of jail, broken the law multiple times for me that shows how his mind works, obviously its not working proper because he has not learned how to follow rules. Now if I found out a criminal was wrongfully convited of a crime then I would think he has every right I have in this world..he didnt break any laws..the law failed him.

• United States
15 May 07
I completely understand and can't say that I blame you being an ex con myself I feel the same believe it or not but if they are not entitled to the same advantages should they pay the same taxes as everyone else?

• United States
16 May 07
I believe in fact maybe they should pay more taxes than we do..but thats only pertaining to a convict who commits multiple felonies. If you are convicted of one crime..thats fine (as long as its not that bad) everyone makes mistakes in life, its what you learn from your mistakes that ultimately determine your fate. But I honestly do feel that if a criminal keeps gettin in trouble with the law then maybe he should have to pay more taxes then a person who works hard everyday to make a good life for themselves, follows the law and has never ever been in trouble.