The 144,000.... Are they the only ones that will go to heaven?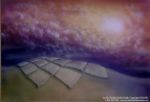 United States
May 15, 2007 7:26pm CST
Some believe that on the second coming of Christ he will only receive 144,000 people and leave the rest behind. Well the bible says in Rev. 7 that John a great multitude that no man can number, standing before the throne dressed in white robes with palms in their hands worshipping God. One of the 24 elders asked John if he knew where those people came from. Then John answered the elder telling him that he knew where they came from. The elder says,"These are they which come from great tribulation". The bible also states that the 144,000 are the first fruits to God and to the Lamb. How would you interpret that scripture found in Rev. 14:1-4? Share your opinions.
4 responses

• United States
16 May 07
From what I've read and been taught, all believers go to heaven. In the rapture, which is what you're referring to, all believers immediately go to heaven. Then, immediately after that, 144,000 people will be converted to belief. They will remain on earth to spread God's word and salvation to those left. Many will recieve Christ after the rapture and will be saved. They are God's witnesses to those 'left behind'.

• United States
17 May 07
I,too, have never read this in my Bible (144,000), but please...if you will share scripture, I am willing to read, think, and learn. I know that after the rapture, there will be people 'left behind' who will convert. Please enlighten me.

• Canada
1 Jun 07
I've read and studied the book of revelation for many years and I've come to the understanding that, yes, that the Bible only speaks of 144,000 humans having the privilege of going to heaven. This does not mean that the rest of the humans are doomed, but this means that the rest get to stay on the earth as God intended humans to do in the first place. The reason for the 144,000 humans to be going to heaven is because they've been chosen to part of God's heavenly kindom. If you read the book of Revelation, you'll notice that the anointed, 144,000, are indeed kings and priests with Christ who is also now King. They'll will rule with Christ, in the heavens. A kingdom needs to rule over something, right? So they'll rule over the earth and its people. The reson God has chosen these 144,000 humans and has not chosen angels to serve as heirs with Christ, is that, as humans, they'll be better understanding towards humans during the time of judgment. They will help Christ bring an end to the wicked of this world and help restore it to its original purpose. As the word "Revelation" says itself, this book is filled with details about how God will use Christ Jesus and his heavenly government to bring peace on earth and to govern this earth the way it was meant to be governed in the first place; by him (God himself). What better government could we ask for? No human, although well intentioned as some may be, can bring real peace to this world. God is the only one and will be the only one to prevail. The Bible has not been written and salvaged up to our day for nothing; it contains important information and instructions about our future. We should really take the time to learn about how to please God and do what he asks of us.

• United States
1 Jun 07
I agree with you about the bible mentioning 144,000 people. I know that it speaks about them in Revelations chapter 7. What I would like to know is where in the bible does it speak about everything else that you mentioned. Please enlighten me with this information.

• Thailand
19 May 07
I would also like to know where the whole concept of the rapture comes from. I have read the Bible many times and can find no reference to it. Am I missing something?

• United States
19 May 07
I for one do not know how people came up with the term "rapture". I too had done research in the bible to find out about that. Before when I was told about the rapture I just thought that it was something that my parents was taught by their pastors, but now I come to understand that if I can't find it in the bible, then it was not mentioned by God. Most people think that the bible doesn't have enough information, but I believe the bible carries info that God wanted us to know about. Sure there is a big gap in between the old and the new testaments, but maybe God didn't feel that it was important for us to know about that gap. God just wants us to learn from mistakes that the people had made back in the days. And if we think about it, we are still making the same mistakes. I find proof or evidence only from the word of God. I don't need to go to libraries and stuff. But now I know that if I hear something about the bible or the lord, I will look into it in the bible.

• India
20 May 07
I just don't believe that Second Coming is only for 144,000 people. John elsewhere says that he saw a great multitude of believers in heaven. I believe the number 144,000 is symbolical. I have a big problem in believing rapture as some people have explained. Rapture is 'parousia' in Greek, and if we have to take the meaning in its context when it was used by the Roman empire it means to denote the whole process when the Roman citizens would go out of the city to welcome the Caesar who is on his way to Rome. So even if Paul wanted to convey the whole idea of parousia it should not be believers going up to the clouds and the rest of the people on earth torture by the antichrist. The whole idea of believers taken up to the sky and the others being tortured by the antichrist for the next seven years and then Christ coming down with believers to rule for thousand years is a very very recent theory. No early Church fathers had such idea. When we compare different viewpoints regarding eschatology dispensational premillennialism is the weakest one, and it has to make lot of hermeneutical blunders to defend it's position. Proponents of this view, I believe, also loves Jesus as much as many others do. But their position is very difficult to justicy theologically and biblically.