do you get nostalgic while cleaning up your closet??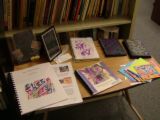 India
May 16, 2007 1:43am CST
a few broken pieces of primitive drinks metal caps, some tin cans, blocks of plywoods, poster colors, dis-oriented brushes, hordes of greetings card, a few love letters, sparkles, gums, satin ribbons, babrbie and micky & donald stickers, old tattered Alice in the wonderland, Archies comics, Titin adventures, pencil boxes with old, extinct pens........ i gathered all this from my closet where i used to keep my childhood stuff, all bearing memories good and bad. everytime i promise to get rid of them, i end up gripping them more. this time i will. we have run out of good space and the mahogany closet takes up quite a space. if i can get rid of the knick knacks i can actually have a conspicuous corridor. i can decor it with utility funrniture. i just hope i can actually do that. but its hard to get rid off your chilodhood stuff. let me keep my fingers crossed.
6 responses

• Delhi, India
19 Dec 07
Yes, it also becomes difficult for me to throw away things which are connected with my teen years or pre-teen years. Though I have read somewhere that 'non-living' things should be stored or collected for a longer period. If I check my closet...I may find some old letters...which I received in the good olden days...when one used to write letters to each others. Also, I have good collection of my olden days photographs...and it is always great fun to see those photos...to know how far we have come in life. Good Post indeed!

• India
19 Dec 07
Deepak, I had started this discussion 8 months back and now I am thankful that satish has made this alive again. I cannot part with my childhood stuffs and I get really sad when I have to for space problem. I get that you are like me. Looking through old snaps make us relive our good old days. Isn't it? happy living memories. PS: Be careful of the letters (love letters). lol..

• Delhi, India
19 Dec 07
Yes, I agree it becomes difficult to spare things associated with our childhood memories. Theek kaha...'love letters' ko sambhal key aur chchuppa ke rakhna padega.......agar kisi ne likhey hongay to...dekhna padega dubara say......kis kiss ne likhey they.....LOL!


• Philippines
28 Dec 07
yes me too... whenever i go to my parents' house, in my old room and rummage through my old stuff, i reminisce about those days. recently, my mom also asked me to clear out my stuff coz she needs the space. omg!! i didn't know what to do! i threw out some of the really old letters, cards and stuff but requested my mom to hang on to the others just yet.

• India
29 Dec 07
Yes, chari, it hurts to part with fond memories. Thanks.

• Philippines
30 Dec 07
but then again, we're creating new memories of the here and now so maybe, just maybe, i can let go of my younger days soon. :)

• India
21 Dec 07
It is always the other way.At times I want to become nostalgic and rummage through my school possessions from the prize book I got for my geography in 1st standard to my old B&W photos,my stamp collection and certificates.It is always an experience reminiscing my days in Hatton Ceylon.

• India
21 Dec 07
Bala, that's great actually! Sometimes we need to reminiscene our sweet old memories in order to break free from the monotony that starts sucking. In your case its just out of getting the feel of Hatton Ceylon though.

• United States
1 Jan 08
I get sooooo nostalgic I end up taking forever to do a tiny job. I read old letters, scan the yearbooks, pour over old photos - I am so bad!

• India
4 Jan 08
Hi kelly, I can relate to that. I do taht all the time. Thanks.

• Israel
21 Dec 07
wonderful mimpi as always:) i am just like you i am very nostalgic and i always keep things from each stage of my life. but i usually do not go and look at them or try to clean the closet where they are in. i know it sounds bad..but it is very hard for me. well i am 35 years old right now, and i know that this habit of keeping things that resemble precious moments of my life is one of the things that won't change. so yes i do get nostalgic from time to time.. but in the end of the day it is okay:)

• India
22 Dec 07
Oh liran, you are so like me! No wonder we are friends. I really love way you express yourself. It comes straight from the heart. You take care. Miss you always.

• United States
20 Dec 07
i have this problem a lot. i have so many things i hate to throw out and yet, with a teeny house it is hard to keep all of it. some things i have let go. i remember about 10 yrs ago my mom had all my pre-school crafts in a box and i was like what the heck are you doing with this crap still? she still has it. i am not as bad as her, but i am sure my parents have passed on some of their pack rat genes to me.

• India
21 Dec 07
Hi vera, I could relate to what you have to say. I could hardly part with my old stuffs. I am an emotional fool..everyone says. lol..