What's your favorite seafood?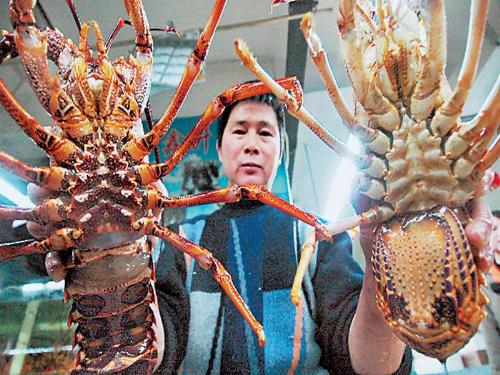 Guangzhou, China
May 16, 2007 10:07am CST
I like all seafoods. Here we have various seafoods, I can't even tell some of their names. I used to like shrimps, but later I found that crabs taste better. But I can't make crabs at home, as it's so troublesome and I'm scared to be hurt. Usually I will make shrimps at home. One day when I'm rich, I will try lobsters:) That must be something tastes well.
10 responses

•
16 May 07
I love seafood and missed it since I got here in the UK. Back in Msia, it's fresh, good to eat and cheap. Well, my favourite have to be crab and all types of fish as long as it is from the sea and fresh... and not until recently when I went to amsterdam, oyster steamed in black bean sauce. I've tried lobster... it's nice but I find the texture a little too tough... so i prefer large tiger prawns. But prawns were never my favourite... still prefer crabs, especially mud crabs my mother in-law buys fresh from the market. She normally cooked it sweet sour style and slightly spicy. Absolutely delicious. Stuffed crabs are also nice. If you ever go to Malaysia, try the seafood at Telok Gong (near Port Klang).

• United States
16 May 07
Shrimp etouffee, perch with orange sauce and lemon zest, and lobster popovers are good. Also sushi. I grew up on sushi and I still love it.

• India
16 May 07
I like Red lobster a lot. i also like prawns, shrimps nad crabs. if made properly, these dishes are so muth watering that if one start eating, he cant stop. with me its almost like this. i love sea food a lot and if it is made properly i just sit to gorge on it.

• India
16 May 07
oh even i like shrimps n crabs...

• United States
16 May 07
From the store for me to cook at home, my favorites are shrimp or scallops. Broiled with a touch of lemon butter. For DH to cook? Crawfish! Every time crawfish! Nothing better than boiled crawfish with corn, potato's, and a few friends!

• Singapore
16 May 07
I don't really like crabs or shrimps, or lobsters for that matter. Well, I don't hate them, they are ok, I just don't particularly fancy them. Among them all, I guess fish is my favorite. ;-)

• United States
16 May 07
I love almost all seafood. Shrimp is my favorite. Then scallops and crab. At home we cook the crab legs or buy lump crab for crab cakes or to add into pasta. Lobster is good but I think crab is better.

• United States
16 May 07
I eat just about any kind of seafood. Lobster is my favorite but it is so expensive. I like shrimp as long as it isn't deep fried. I enjoy crab as long as it is cooked correctly. The only kind of seafood I can cook is fish and I don't cook it that well.

• Netherlands
16 May 07
I like a lot, salmon, crab, lobster, shrimps, gamba's, etcetera mainly. Although "hollandse nieuwe" herring I love as well :D.