ways dads can get closer to baby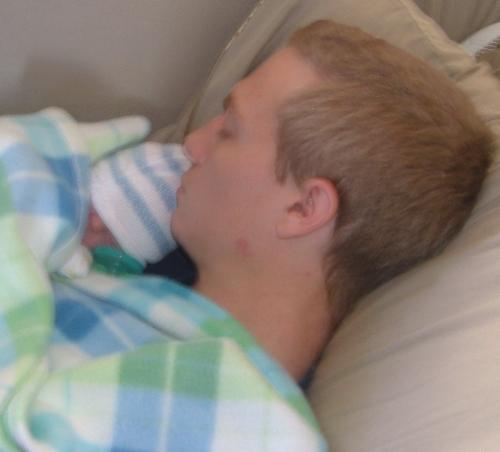 United States
May 16, 2007 8:24pm CST
My husband works alot of nights leaveing him to sleep most of the day. I was wondering if any of you have bonding experinces between your husbands and babys that they would like to share. He does feed him when he comes in at night but usually the baby just eats and goes right back to bed. I dont want them to feel like they are not close and i do not want my son to think his dad does not have enough time for him!! please help!!
5 responses

• Singapore
17 May 07
does ur husband works weekend nites too? my husband works late into the nite, by time he reaches home, our son is usually asleep. So during weekends, i will let my husband take care of my son. from feeding to entertaining to changing his diaper. Bath time is a good time for them to bond :) My son enjoys the water, the bubbles and his dad's company.

• United States
17 May 07
yes, he does work most week-end nights two. he usually gets at least one day off a week but it seems he is so tired and trying to catch up on sleep for that one day. When he is home to give him a bath they do have bath time together.

• Singapore
17 May 07
well i guess bath time is the least he could do given his busy work schedule. Its better then not having any contact with ur baby ya? Perhaps as time goes by, he will eventually have enuf rest during his work days n will have the energy to play and take care of ur baby. OR do up a blog for ur baby. I did tt, post lotsa pics n enter some daily things tt my boy does. My husband will go to the blog to read n get himself "updated" on our boy's progress. You know wat, for the 2nd time ytd, he texted me n said he misses our son. He went home early so tt he could feed our son n play with him before his bedtime.

• United States
17 May 07
well that was really sweet of him to do!! he tries to spend as much time with him as he can. If he has an extra 5-10 min before work he runs right to that baby to play it is just never really long periods of time. the blog is a good idea though. thank you!!


• United States
17 May 07
That is sad. I went to work when my daughter was four months and I worked nights so we had limited time and I never saw my hubby. I think that just when he is awake just to make sure he includes your son in everything he does. Even if it is to sit him in a chair while he shaves or something. Your husband loves both of you and that is why he is working hard to make sure you get what you need.

• United States
18 May 07
yes we know!! It is hard at times but i would much rather him spend his time at home with our son!! (when the baby is awake)

• India
17 May 07
My husband works in dad, I never came across such situation. I have one suggestion for you, when ever your husband gets time to relax ask him to spend some time with baby and in fact that gives them more pleasure , my baby always trys to be with her dad and ofcourse I am there for her, but I feel my husband is very attached to her and both the parents love is very important for babies my husband does everything for baby, I hope your husband will also get some time during weekends or any time where he can spend atleast 5 to 10 minutes with baby that will help out ..Take care

• United States
17 May 07
that picture is enough. your husband letting your son sleep on his chest is great bonding for a father and son or daughter. mmy daughter is 5 months old and will not lay on me like that but with her dad her head is down and she is smiling. she loves laying with her dad. i am home with her all day and dad only sees her in the morning and late night but as soon as her daddy picks her up her head is down. my husband also takes a day for him and her. he does it all changing, feeding, bath, every thing. it helps her to know her daddy. good luck and congrats

• United States
17 May 07
thank you very much!! yes he would rather lay on his chest then mine although he loves to snugle with me:)

• United States
17 May 07
I think that just the fact taht he does take the time he does have is good. Your son will understand, right now he is very young and doesn't realize what is going on. It probably bothers you more than it does him. I used to be the same with my daughter when her dad was gone on missions or out in the field and couldn't be home for weeks at a time. now he is going to Iraq for 15 months. It is hard to have your husband away so often, but the time he does spend with your son, means so much more. Take care and don't worry so much!

• United States
17 May 07
thank you so much!! it is a little comfort knowing that he does cherish the alone time that he gets with our son more than anything else in the world!!