white magic

India
October 22, 2006 1:16pm CST
how is white magic different from black magic.....does anyone have e books on this subject......
4 responses

• United States
22 Oct 06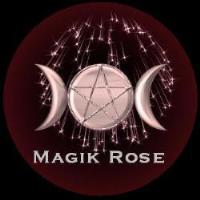 I am a Pagan and I can tell you that White magic is to help and do good things, Black magic is to do harm. I wouldent reccmond practesing black magic because there is a rule of 3, what ever you send out can come back 3 time worse than when you sent it. Whit magic when doing good can only come back 3 times better than what you sent out, it is safer and more rewarding.

• United States
24 Oct 06
It is the most fullfilling thing Ihave ever experienced. I used to go to christian church and I did not get the satisification from it that I get from the craft. Feel f ree to ask anything you want I will be happy to answer.

• United States
4 Dec 06
I personally dont believe in white or black magick. For me there isnt any positive or negative when it comes to my path..it just is and that carries over to any spellwork I do as well....I've actually done some work that some ppl may consider "black" magick whereas for me, it isnt, it was needed....Some ppl tend to look at any magick that manipulates another being as being black magick and again I dont...however there are spells I consider careless such as love spells to get little Jimmy Jones to fall in love with little Suzy Shmoo three desks over - that is carelessness in my opinion but not black

• United Kingdom
27 Oct 06
You don't need a book on it. It's simple. White magic is good, black magic is bad.