Have you seen Spider-man's girlfriend?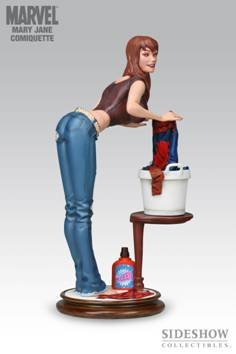 United States
May 16, 2007 11:13pm CST
The Marvel Comics new figurine, that is. I was just watching Extra, and they showed the latest figurine of Mary Jane, Spidey's girlfriend. And boy, oh boy, are they showing her in an entirely new light! Personally, I think she looks like a tart! (and not the pastry kind! LOL) She is in a very revealing top, and her unmentionables are showing above her jeans. From what I read from several different blog sites, a lot of people are pretty upset and disgusted about it. But you know what the funny thing is? According to Marvel Comics, they are sold out of Mary Jane ALREADY! Go figure. Check out the photo I've added, and decide for yourself.
3 responses

• United States
17 May 07
Honestly, from reading Spiderman from way back when they killed his blonde girlfriend off & intoducing Mary Jane - she always was more "out there." She always dressed more revelingly & seemed to be Peter's opposite. I thought they were a cute match.

• United States
17 May 07
Oh my goodness...she does look like a tart...uh..strawberry? Cherry? LOL---so if people are upset by it though..why is it sold out..??