The Island Settled By Mutineers?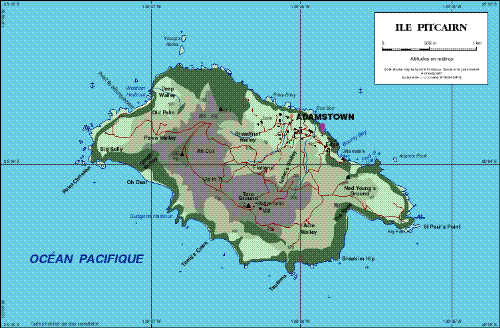 Australia
May 16, 2007 11:49pm CST
Have you heard of the story of "Mutineer of the Bounty"? This is a true story of a famous ship mutiny, whereby the mutineers settled an island & their descendants exist today. Pitcairn Island is the name of this "infamous" island. I am going to copy & paste a brief summary from Pitcairns only webpage:"HMS Bounty sailed from Spithead, England on December 23, 1787 with Captain William Bligh and a crew of 45 men bound for Tahiti. Their mission was to collect breadfruit plants to be transplanted in the West Indies as cheap food for the slaves. After collecting those plants, Bounty was underway toward home, when, on the morning of April 28, 1789, Fletcher Christian and part of the crew mutinied, took over the ship, and set the Captain and 18 members of the crew adrift in the ship's 23-foot launch. The Captain sailed the launch and 17 of the crew 3618 miles back to civilization. The mutineers took HMS Bounty back to Tahiti, and, with 6 Polynesian men and 12 women, took the ship to the isolated site at Pitcairn Island. After burning the ship and a violent beginning, they established a settlement and colony on Pitcairn Island that still exists."The sailors mutinied, as their conditions under Captain Bligh were so terrible. Captain Bligh was later a Governor in Australia, & the army mutineed here too, when Bligh was leader. It was Australia's only rebellion, known as the Rum Rebellion. Anyway, the mutineers initially made quite a success of settling their island, & were not known by any outsiders for many years. They had ample food & grew good gardens, & built adequate homes. Unfortunately there were not enough women, & one night there was mass murder of nearly all the white men. The Tahitian women retaliated by murdering all the Polynesion men, & from that day on, managed the island successfully themselves. The link to Pitcairn Island is here, this is truly a fascinating story. http://www.lareau.org/pitc.html
6 responses

• United States
17 May 07
seen the old black and white movie when i was a kid. I also seen a special that was done by a news organization about ten years ago. I can still remember captain bligh saying "Mr Christian".

• Singapore
20 May 07
Wow, you mean this island is still there, with real descendants of those people? Then again, they are not the real stars. :P

• Australia
4 Jun 07
Yes, the island is there, with real live descendants. It is a small, somewhat undeveloped island, due to it's isolation. Unfortunately it became rather "infamous" last year die to a series of rape charges.

• United States
17 May 07
The Bounty Trilogy has always been one of my all time favorite reads. If I could go anywhere in the world, it would be Pitcairn, just to see it in person. I believe it's the most remote place in the world because it's so hard to get there, and there aren't convenient place for boats or planes to land. I'm so glad you posted this discussion. I check up on Pitcairn from time to time, and it's been awhile. The last I checked, there were still descendants of Fletcher Christian living on the island.

• United States
21 May 07
i remember seeing a documentary on this-it showed some modern descendants,i think it was on the history channel. very cool-i will check out the link:)

• United States
18 May 07
Thanks for that little tidbit of history.I always love learning something new and found this quite interesting.Thanks for the link and i will be sure to check it out

• United States
17 May 07
I recall reading this somewhere awhile back. I can't recall when or where but I do re,member the part about the women murdering the Polynesian men. Thanks and I'll have to check this page out soon. HAPPY POSTINGS FROM GRANDPA BOB !!~