Did Ghandi like Jesus? how about Christians?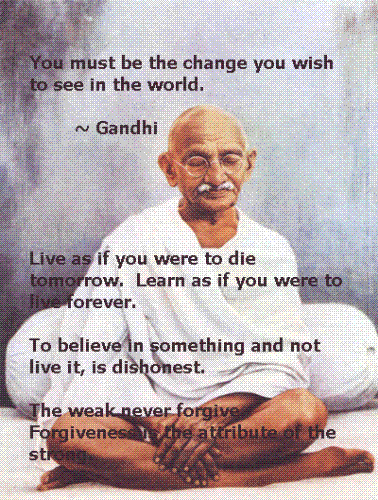 United States
3 responses

• India
22 May 07
Oh It is g8 to know that you have interests in Gandhi.Did you surf anytime about Gandhi ?.


•
22 May 07
i think whatever written in any book about anybody is not 100% accurate. it may be accurate at the time of say, interview with the particular person. but months or years later, the person might change his views of the past. we cannot simply put it that what the writer or author published is taken as a fact of history and true. the same is true about Gandhi. No one knows what was really in his minds. but we can sum up for sure that he was a very good example of what Christ wanted Christians to be. i personally admire MK Gandhi even though he was not a Christian. As i would like to put it, there is no one can replace Gandhi.

• United States
23 May 07
that was so very sweet! I sure hope he heard that, wherever he may be right now. (if in the spirit realm) Sometimes, just saying his name, "Ghandi" makes me happy! but you know, I get the same feeling when I say, "Jesus Christ" "Mother Theresa" and "Budda". I also like saying "GOD" and "Hare Krishna" and "ALLAH." oh yes! and "Martin Luther King" to me, it all represents the same thing. It is strange to me, how different Humans are from these merciful caring individuals, you know? they accepted everybody. they bring such joy to my heart!

• United States
23 May 07
I always think I need to study up on him and learn more about him.. he was a great person.. I've heard that about his wanting to meet Jesus, but not christians.. I think it's funny too.. and yes, sadly very true.. tho I love the christians too.. it's just human beings fall so short.. even the great and loving ones.. [Xcept Jesus!]


• Philippines
23 May 07
this is not something which is funny. actually, this is a serious matter. many people around us claim to be Christians, but look at how they conduct their lives. gandhi was profound in his thoughts when he said that he is disinterested to meet the so called, self claimed, Christians. If we study how Jesus Christ lived His life, we will find out that it was a spotlessly clean life that He had. Jesus Christ has led a good life of example, Christians must do as He did, to become worthy to be called thus. okay, we can give allowances for man's failures and wrong doings, but definitely, not the way that most of them lead their lives - cheating and doing other mischiefs with all intent and full knowledge. this is no Christian thing to be doing.

• United States
27 May 07
very true statement. Many people claim to be christians but claiming and acting are two different things. Its easy to claim to be something but alot harder to walk in those shoes.

• United States
28 May 07
Far be it for me to judge anyone but there are alot of people who do violence in Christ name and that can be a very bad example for other christians to follow. We must strive daily to follow Jesus example and not individuals.


• India
1 Jun 07
Well, I guess Gandhi Meant that Even though we claim we r true followers of Christ, sometimes Christians dont behave like wat they should,,, I mean I m a christian too, n for instance, I see people gossiping about each other right after mass,which I always hate to see in church. N i hve noticed that anywhere, if one Chritian is have a good life, the other christian neighbour envies it. I live in Mumbai, n me building is full of Catholics. N i m saying this from my 10years experience, thats since I was ten years old,,,old enough to understand wat the hecks goin on. Once I m able to buy a house of my own, I will make sure I dont have any Christians around, bcos of their Jealous Attitide, (obviously, I dont mean to generalise Christins all over the world, but this is my experience so far).