Lazy Landscapers.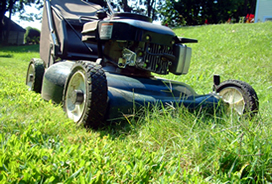 United States
May 17, 2007 8:06am CST
The public landscapers in my neighborhood are so lazy. One of their jobs is to mow all the grass in the neighborhood that isn't actually on anyone's property. They are really lazy and careless about it. When they mow by the sides of the road, they just let all the grass fly into the middle of the road and they don't clean it up! They just leave the cut grass in the middle of the road and go on their way! This makes me angry because grass is something that really makes my allergies act up, so when I have to go out driving somewhere after those people have mowed, I have to drive over all that cut grass in the road and the smell of it really bothers me a lot more than it would if all the cut grass just stayed on the lawns. When you are driving, it is not a good time to be having an allergy attack. The thing is, this doesn't just happen in my neighborhood. It's like everywhere I go the landscapers are like this and I find cut grass in the middle of the road all over the county. Does anyone else think this sort of thing is unacceptable?
3 responses

•
18 May 07
It doesn't bother me because I don't have allergies. The thing they could do would be to have a bag on their mower to collect the grass. Then of course it would take more time to mow the grass. Which in turn means more expense for the county. Which means you pay more taxes or get less services somewhere else. I feel for your allergies as my wife is allergic to grass also. My wife is the girls dean and we live in an apartment connected to the girls dorm. When the grounds people come by the last thought on their mind is my wife's allergies. They just leave the grass on the sidewalk and hope that the wind blows it away. I sympathize with you but I also know that realistically nothing is going to be done about it.

•
19 May 07
It does get discouraging though when you try and keep your property looking nice and then they mess it up. I wish I had a solution for you but nothing comes to mind. Except, all the neighbors could gather together and clean up the mess.

• Netherlands
17 May 07
Here there are some areas in which the lawn mowers now directly catch up the grass for it to be ditched elsewhere, but the downside is that the amount of grass they can cut in one go is a lot more limited simply since it fills up rather quickly.

• United States
17 May 07
I actually haven't seen those kinds of lawnmowers in a long time. My family used to have one. Now we have one that chops up the grass really tiny. It's called a mulching mower I think. It's supposed to be good for the lawn or something if you leave tiny bits of grass on the lawn. I think the mulching mower is the sort of mowers that the public landscapers use, except that most of them use the really big ones that you can ride on. I just wish they wouldn't let the grass fly out all over the road, and if they can't avoid doing that, then they should clean it up afterward.

• United States
17 May 07
I find this acceptable. If you are going to do a job - DO IT RIGHT!

• United States
17 May 07
Yes, I meant unacceptable. That's what happens when you try to sneak this in while at work.....