would you like to own a hive of bees?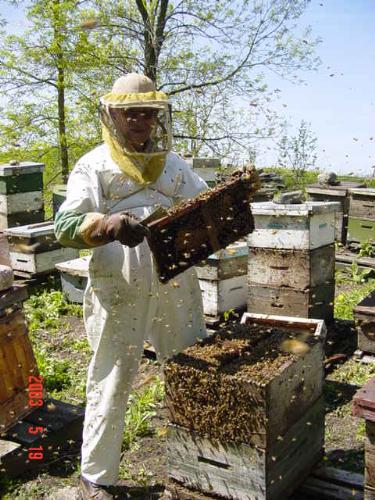 Canada
May 17, 2007 8:55pm CST
Its a lovely spring morning and the bees have started to gather the nectar from dandilion blossoms. I'm examining the brood chamber of this hive to determine if the bees have a Good laying Queen. If they don't I'll put some bees in from another hive along with fresh eggs, so that the bees can raise another queen! The queen is the Mother of the whole hive, so if the colony is Queenless it will soon die! Beekeeping is a very rewarding business! There are around 5000 beekeepers in Canada Ask me some questions if you like?
5 responses

• United States
18 May 07
My husband has always thought this would be a really great thing to get into for a hobby. I recently read the book, The Secret Life of Bees, and that gave me a new perspective. I think it could be a rewarding and relaxing hobby. I learned a lot from that book even though it was fiction. Great topic, thanks for the information.

• Philippines
27 May 07
i have always thought of raising bees of my own. this idea started to be in my mind the moment i bought a farm. the problem now is, i cannot stay there for most of the days. honey is priced quite high in my locality and the demand is also very high. it will surely be a good source of income. besides, there is a government institution which can provide the technological training on this. there is only one deterrent now. that i stay there in the farm or find one good caretaker.

• Singapore
28 May 09
If ever you have had a discussion made before, when did you first have the passion and interest for owning bees or sort of like into this bees breeding and why's that. It is a very unique hobby definitely. Care to share how you manage to have this interest or point me to your discussion on this if you have. Thanks, barehugs..

• Canada
26 May 09
I'm happy for you that you can take care of bees. I dream since I'm a little girl to one day be able to learn and to have a bee hive. I'm 47 now and I know it not to old to learn. We are going to move in another province within a year and I know that I should wait until I'm settled down first.

• Philippines
11 Jun 09
Wow..I always thought that raising bee hives is a difficult task. But I might be wrong because you talk about it as if it is the most precious thing in the world for you. My father attempted to raise bee hives before but he failed. Maybe it's not really meant for him.


• Canada
11 Jun 09
Honey bee culture is not that difficult, but the beekeeper must be highly dedicated. I mean you must really want to do it. Its not like owning a pet, where you just feed it, and let it out when it has to go. Bees have many diseases and health problems, many that are brought on by our thoughtless society, which sprays the plants with chemicals, and poisons the bees. Thanks for your response!

• Philippines
27 May 07
i really love to have my own hive of bees. i wonder whether it will be easy to raise even in a city residential area. i have been thinking about this since, there are still some fruit trees around. is there a good way to determine as to whether the trees around can still support a hive of bees? i will surely be disappointed if i decide on starting to have a hive of my own only to find that my area is no longer suitable to support them and thus lose everything to nothingness.