are you a compulsive buyer ? do adverts rule you ?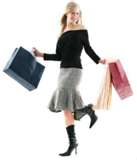 India
May 18, 2007 5:57am CST
personally, when i go for shopping, i end up buying more stuffs than i had actually planned. the lures of savvy packaging and chik marketing with unbelievable offers, like buy 1 get 2 free, kind of sweep us of our feet. (more recently, i came across an offer: BUY 0 GET 1 FREE!!) i think, today's is the world of consumerism and we haven't seen a more steep boom in the industry of merchandise and consumerism than now. Is your world completely ruled by daily advertisements, or are you a wise, or should i say, a more restrained buyer?
2 responses

• United Kingdom
18 May 07
Well in the end when there are offers like that on and I use the Product I will buy it even if I still have some left because that way I do not have to buy it again for a while so you are saving But I will only buy it if it is a Product that I normally use

• Singapore
18 May 07
You are RICH, my friend! :P I wish I could just go on impulsive shopping and buy anything and everything the adverts say are nice. But no, I only go for the necessities most of the time.