The rewards of cat rescues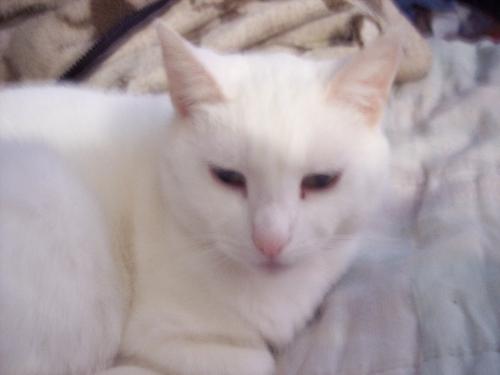 United States
May 18, 2007 4:07pm CST
Stray cats are everywhere and why are they everywhere? Maybe because so many times that cute cuddly kitten becomes a pest as it grows.He was so cute but now he knocked over that vase that Gran gave you. He may have been the one that upchucked that nasty furry slime on your new bedspread.Was he the one that sprayed on your expensive shoes.Why is that awful animal peeing on things and good God that smell.No one told you that that cute little male kitty needed to be neutered so he would not feel the need to mark his territory on all your nice things .And that sweet female kitten is yowling at the top of her lungs night and day . She thrusts her butt in the air whenever someone walks near. Has the poor thing gone mad? She needs to be spayed or she will most likely find a friend and deposit more unwanted babies in the world to starve,get run over, or die of illness. Are these creatures naughty or are we just uninformed and mishandling them?Many times if prior to taking that cute ball of fluff the person would ask about the care they would know what to expect as our little friend grows and would be ready and could avoid spraying and yowling. The simple act of shots and having kitty spayed or neutered before it was old enough to to go into heat. They are beings.Living, feeling creatures that should never be thrown away like garbage.Adopted,given,placed but never thrown away. I was adopted by a stray cat for the first time in 1969.This little guy came to me along with a dead mom,dead sister,and 2 squirming brothers still unborn.His mother had been hit by a car killing her instantly but the little ones inside were still wiggling in their sacks.After liberating the small, wet, yowling creatures from the confines of their deceased mama I was at a loss for what to do with them. I soon realized that they were hungry and cold.I went to the fridge, heated some milk and rummaged for an eyedropper.I began feeding the little opened mouths one by one, wiped them down from head to toe with a warm wet cloth. I then placed them in a box with a hot water bottle only to have to carry out the same ritual a couple of hours later. The three little boys soon grew into romping fur balls and it was time to find homes for them.Two went to my neighbor and her mother and the last stayed with me till his time on this earth was over. That was the beginning of many strays from many different situations crossing my path. Some had a quick meal and then passed to a good home and others were to become part of my life. It gives me a good, warm feeling inside to rescue a needy creature.It's my way of being a hero in a world where there are no heroes .To be special although I'm just like everybody.To play God for a minute and save this feline.To look in those grateful little eyes and know I have unconditional love brings a lump to my throat. I'm not the hero...or special...or God...but I am very lucky to have met the motley assortment of strays that have paraded through my life. Have you a rescue story to share?
8 responses

• United States
19 May 07
The cat I have now, followed me home. I was walking home from the store and a kitten started walking through my legs like a figure 8 for a couple of blocks while I was walking. I thought he was so cute. When I got to my door and opened it, the kitten walked right in with me. I picked him up and fell in love. The next day I called the vet and made an appointment to get him shots and a check up. I also got him neutered. I still have him two years later. A very sweet cat, but he is very afraid to go outside.

• United States
19 May 07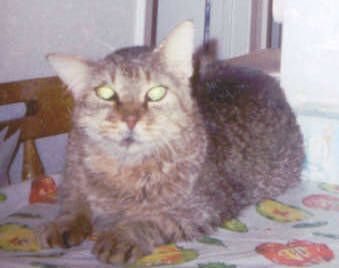 There was this tom wandering thru the neighborhood. I called him & he came over to see if I had a handout to give him. I dashed inside & grabbed a handful of dry food & put it on the door step. He was sitting off a couple of yard, but when I went away he came up & ate. I called him Hobo, the people down the street were calling him The Handsome Stranger. After feeding him maybe twice a month he started coming around about once a week & sat just out of reach. Then he came a couple of times a week & I was finally able to scratch his head. Oh my, I think I could still be scratching his head & he'd be happy. He was missing for a few days and then he was coming every day, but had a huge wound on the side of his neck. He was also getting pretty puny looking. A friend saw him & said that if I'd take care of him, she'd pay for it. So, the next time I scratched him on the head, I pitched him in the house. The next day I ran him to the vet. Well, I didn't get to see my regular vet, I saw the owner of the clinic. He took Hobo away & came back & said "Well, he has FIV & since he's a stray we'll put him down." I said "He may be a stray, but he's MY stray!"So, they couldn't fix the big wound then, since he was too thin for the skin to streach, but they did take him & fix him. I took him home & he proceeded to bleed (seep) and leave his ugly scabs all over the house, but that was fine, he was one of the NICEST cats I had ever met. He had knocked his fangs out before I got him so he couldn't spread the FIV, he was a real lover. Then, after several years (he had the wound patched up after about 6 months) he developed diabities. We did shots with him for a few more years until we finally lost him. He was so ugly he was cute. He was Hobo, the homebody, a stray no more.

• United States
19 May 07
We all do. He was a great cat - he knew he had a good thing & wasn't going to give it up! The tilted ear is where they streached the skin to fix the hole on his neck - he also had some paralisis on that side of his face. But he could purr a storm. He certainally was one cat that NOBODY messed with!

• Philippines
19 May 07
i had so many stories to tell, and so many that i could not download in my brain anymore. but there is one story happen to me when i was a teenager. A fire hit our neighbors (except ours), and about 150 house was affected. During the fire, you know there are many busy saving their property, fireman saving houses, killing flames. We, our family although quite far from the fire, doing saving our own also. then while we are all outside, i run a count of my kittens, all of my big cats and two dogs are inside the cage, but my kittens, i think i left a very small one on the bed( she is in tight sleep during that time ) and i think one run away. So i hurried back to the house, my parents stop me because there are still tremendous fire, but they can't stop me i still run to the house. I waited for this one fireman to be go away we i hurried to our house, they don't want anyone to come near their houses anymore. I said to myself, i do anything to save my babies ( i called them my babies eversince ). Then i have got a chance, i run as fast is i could. When i got near the door, our floor is so wet and there are no electricity, but i heard a loud cry. Even i don't see anything, i called my babies name "ming", as loud as her cry. And then she is there, at the cabinet hiding, wet and scared. I put her at my shorts pocket. I went to my room,coz i remember i left the little one sleeping there. I feel every part of the stairs to avoid me falling, that't time i don't see anything, and i am coughing, because of the wide smoke from neighbors. When i entered the room, there she is, didn't know what is happening, still sleeping. I grab her immediately and carefully go down. On the background you will hear the explosion, the cries of people, the strong waters from the host of the fireman, loud voices, screaming and the cry of my two kittens so scared of what happening. I succeedingly went out, and this one fireman, shouting at me to evacuate the place as fast as i can. I went back to wear my family is, and my mother is crying there and asking everyone around if they see me.I went to her and she hold me tightly still worried and still crying. I explained that i went back to rescue our poor little ones. When my dogs and cats seen the 2 kittens, they all sounded worried and concerned. they are licking the two and one big cat take care of them inside the cage. In God's blessing, our house was not affected by the fire. And i realize that i rescue poor little kittens in exchange with my own life and safety. What a cat rescue!, i just proved to myself, that i can do everything with the one i love.

• Canada
19 May 07
I have had cats now for the last 27 years. They have been either stray or rescued from the shelter. I love them all and I have had a few intentional litters but not many. Except for the newest stray all my cats are fixed. The new girl will be done before the summer is out.

•
19 May 07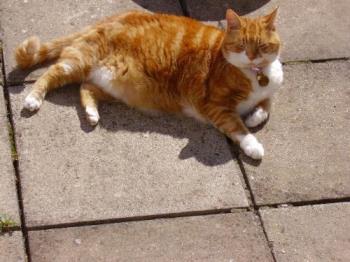 Raydene - I love your posts about your strays, and I admire the work you do rescuing the poor stray cats. I have 5 myself, and each one was a rescue case with his/her own story to tell. For example - I found my Wilby (pictured) one day in the woods near my home. He was crying piteously huddled under a tree in the rain. He had no fur on his face, his paw was bleeding, and he could not move so well - it was obvious that he had damaged his back in some way. I picked him up, wrapped him in my jacket, and took him to the nearest Vets' emergency surgery (it was a Saturday). They said his back was either injured by a blow from a car, or that he had maybe been beaten and dumped by cruel humans - they feared the latter. He had to stay in for 3 weeks to be treated for his injuries, and with antibiotics, during which time I put posters everywhere just in case he did have an owner, and he had indeed wandered off and been run over. No one came forward. Once the Vets said he was fit enough not to stay there anymore, they were going to take him to the RSPCA Shelter, but I had recently lost one of my two cats to leukaemia, and his brother was pining so I decided to bring Wilby home and see if he would settle, and get on with my other cat. I was a little worried about how two large, ginger males would get on together - but he has been with us ever since. Wilby is the world's sweetest cat - he loves to sit on your knee and have a cuddle. He has the loudest purr I know! He is a little overweight as you will see, because the injuries to his back mean he can't exercise as much as the other cats - the Vets tell me he isn't in any pain though, or I would not let him suffer, but he is stiff and can't move so quickly. Rescuing him many years ago now, gave me a whole new perspective on life, and since then I have rescued 3 more who all live with us, and I am currently "getting to know" another stray who I feed and who is just beginning to sleep in our garage. He is very scared of people, but I know in time he will come round. He is beginning to trust me more and more each day. And I live in the middle of a city, - so I think it's true that there are stray cats everywhere, even in the heart of London. Thanks for letting me talk about my babies - always my favourite subject.

•
23 May 07
No - I admit I've been really busy since I came back from my holiday - hardly any time to breathe - so I apologise for that. Anyway - her first two operations went well - she needs a couple more. Will be in for at least another 4 weeks they think. She has a really bad infection which they can't clear very well, which is causing them concern and complications, but she is still fighting. Thanks for asking.

• Canada
19 May 07
Right now my kitten was a free kitten from the paper but I remember a time when my mother and I lived in Ontario and all throught the summer and winter my mom fed this outdoor alley cat... Then in the winter he stopped coming around and we got worried... well one day we were outside and I was shovelling snow when under the stairs of the place upstairs in the house (It had been made into a duplex) we heard a lot of yowling and went to investigate... and the poor baby way frozen into the ice under there and had been stuck a little while... my mother went and got some stuff to chisel with and we chipped him out of there and brought him inside... We don't see many strays anymore because of the SPCA, now they have a pretty good program and they vet check and give shots to the cats as well as get them fixed... my only beef with them is that if it is an adult cat, they only have so long for adoption and then they are put down

• Australia
19 May 07
I have fed and watered my share of strays and a few cats have taken up around where I lived, but I'm always in a situation where the person living in the same house refuses to have a cat or more cats or in a flat/apartment where I'm not allowed to at all (Though I've broken those rules because I love kitties!) I do have a sort of funny story about trying to help a stray though. When I lived on the top floor of some apartments (4 floors tall) I saw a scraggly stray drinking from a puddle of water that had built up in the parking lot. It was so pitiful even from a good distance. I knew it'd probably be gone if I went all the way downstairs and tried to go near it, plus I was really under the weather so I got some sliced chicken that had about a day before it was going to go off out of the refrigerator and left it in the open bag and chucked it towards the cat, trying to make it land close enough so that he could see it and far enough away not to scare the crap out of it. Well, I didn't realize I had such a good throwing arm and when I chucked it towards him I pegged him right in the head with it. He let out this horrible "scared cat" sound... something like rawarswrrrr!!!!! I'm sure you know the sound I mean. I felt so bad for hitting it I cried. A few minutes later I went back on the balcony and it was sitting in the same place eating the chicken. I was happy the little fella forgave me enough to eat his meal. I have moved around a lot in my life. My cats have always been my best friends. I've had to leave pets before when I moved, but I always made sure that they had a good, stable home. I've only "gotten rid of" 1 cat and thats because it had some sort of strange vendetta against me and would see me come out of my bedroom and jump on me and attack my leg. He was fine with everybody else. I called him "Hellcat" and I ended up giving him to a friend who he didn't try to eat.

• United States
19 May 07
Cats rescues are great, there are so many poor strays that need homes out there. My Goldie was a rescue and she is going on 10 years of age, it was a battle, but she is making it. I spayed her at six months and I had to take a hairball out of her a 8 years of age. She is so strong.