anybody's kids go camping...without you?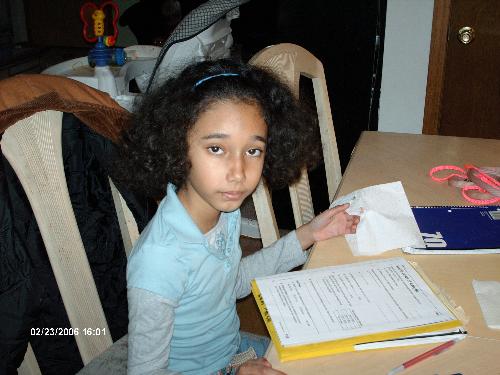 United States
May 18, 2007 8:07pm CST
my 10 yr old is going camping tomorrow with the girl scouts and i am a nervous wreck. i cant go with her since i have 3 toddlers and my husband is working tomorrow. he wanted to go with her but the only sat that he is working this month is tomorrow..of course. anyone have their child go camping, without their parents?? i am worried but i dont really know about what...lol. not sure i am making sense right now. it is just a scary thing to send your child into the wilderness, although there are flushable toilets there..lol. i think i worry about bears a bit. they are going to an area that has had black bears roam around. should i be worried or do you think that the girl scout leaders can handle it?
5 responses

• United States
25 May 07
I had some of my most fun times at GS camp! Yes, the counselors can handle it. She may only be 10 but they teach kids to take care of themselves out there. They also supervise pretty closely most of the time. (Losing a kid is a big no no for those organizations.) I won't say you have nothing to worry about but if you have one, send your kid along with a cell phone. That way you can call her and check on her now and again, or she can call you if she really does need you. The troupe leader should also have contact info for each child in case of emergency. You should have had to sign something as well. But the rules on those things are different everywhere I think so not sure if it is required anymore. We had to have permission slips to do candle-making even when I was a kid. As far as black bears go, there are ways of approaching bears that will not get a person attacked. Of course they should be avoided, but talk to her about how to protect herself. Give her a whistle, a bell or something so that she can let bears know she is coming. Usually a bear charging isn't the fault of the bear but the fault of the human because they don't know how to react. Teach her to stand up to the bear, make herself as big as possible by raising her hands above her head and waving them around. Teach her to talk to the bear in a calm but loud voice to let the bear know she is human and not prey. Bears do hunt and they will look at us as prey sometimes, though that's a rarity. Also teach her to look for ways to get away by weaving thru trees etc rather than running in a straight line. NEVER RUN FROM A BEAR! Back away slowly and keep those arms up and the talking going. Tell her if a bear approaches while she or her group are sitting and eating that they should all as a group get up and back away from the food. A bear doesn't associate food with humans as long as the people are not giving the bear the food. Backing away is a sign of submission, and the bear is likely to take the food and be on its way. However make sure there is a ranger station or someone that they can contact in case there is a menace bear about. Those are my suggestions. Camping can be great fun. My own seven year old knows as many tricks as we do almost. We lived in a tent for a month when we moved to Alaska, and right at the edge of a woods with bears living in it. We can run into Grizzlies up here, and they are larger and not quite as "cute" as blacks. Simple fact is, a little knowledge and some defensive mechanisms will do wonders to help your daughter survive anywhere that she might come in contact with a bear in a group or by herself!

• United States
25 May 07
thanks for all the info. we both survived the weekend!! she cant wait to go again next year!!

• United States
23 May 07
I wish my daughter's girl scout group would go camping but they don't. My daughter is going to girl scout camp in July and can't wait. She will be gone a whole week with others her age and dependable scout leaders. I don't worry about her cause I've taught her well when it comes to camping. She even showed her leader last year how to start a fire without matches when they ended up soaking wet. lol It's good to be worried but don't let on to your daughter your worried or you might spoil her fun. The leaders will keep all the girls safe.

• United States
25 May 07
good luck to her when she goes to camp. she will have a blast. my daughter had a blast and i survived too.

• United States
19 May 07
My wife is a GSA leader for a Junior troop and takes the troop camping more then the Boy Scouts go. The rules for the GSA are very stringent when it comes to camping and there will be plenty of supervision, safety, and believe it or not, a male escort...Normally I get that role which I dub the pack mule position. Worrying is a good thing, it shows you care. But I really wouldn't let that prevent your kids from enjoying the event. If it wasn't safe, the council would not allow it. Our oldest girl (10) has gone camping with other troops before without us, and we didn't have any problems as long as the troop leader is dependable and mature enough. If the troop leader is wishy washy...then I'd have more room for concern.

• United States
25 May 07
thank you for all the info. i am glad that you told me about the male escort because i thought that it was strange that there was a man going. now i know it is normal. she went last weekend and came back in one piece. she had a blast!! and i survived the weekend without worrying too much.

• United States
25 May 07
Guess I am a little behind LOL I just noticed that this was posted six days ago. Hope the trip went well!

• United States
23 May 07
Dearest mama4kids, I am a Girl Scout Leader with 10 years of experience. You are making perfect sense to me. Let me assure you that the Leaders receive training in camping, CPR, first aid, safety and other areas before taking girls for any outings, day trips, overnight trips, parades, and other events. Also, we are required to have certain girl/adult ratio's for different trips. My troop tends to maintain a one adult to five girls ratio for all things. Occasionally, we will have more adults as an extra measure of safety. Safety is a top priority in girl scouting. The girls themselves are prepared before going on these activities so they know what to expect. Ask your daughter if she has had an opportunity in her meetings to help plan the trip and to ask questions. Yesterday, my troop had a huge planning session of what they want to do and what they are going to do for the entire summer. The hope is the girls will have a wonderful experience. Then they can come home to tell you all about it and share their experiences with others. Make sure the Leader provides you with the emergency contact number for that camping trip. This way if an emergency arises at home and you need to contact the troop or leader, you can. Over the years, our troop's parents have gone from being nervous like you to looking forward to having some time to themselves. I have to giggle because I actually have parents asking when are we leaving again and how long will we be gone. LOL This reminds me I have to get the next newsletter done for the parents so they will know about the two parades, two service projects, two camping trips, and several workshops that the girls have planned out for the summer. Ok, mom...here are some things you can do to help yourself feel better about this new experience. 1. Send a disposable camera with your daughter so she can bring this adventure home to share with you. Plan to make a scrapbook or memory book of her trip. Help your daughter pack but try not to do it for her. There is a badge that she might be working on and I know one of the activities is to "pack your own bag". There is also a badge called "Wise Decisions" so help your daughter to make wise choices about what to take and what to leave at home. 2. Talk to the Leader herself. Ask about her training. Most leaders will be proud to tell you. Express your concerns about the black bears. Ask how many adult leaders, co-leaders or chaperones will be accompanying her. Ask if this is an individual troop camp trip or if there will be many other troops at this camping event. (sometimes called Core Camping) 3. Find out if they are camping at a designated Girl Scout camp site. Will a Girl Scout Park Ranger be on site? Will a regular Park Ranger be on site? Ask for a map to the place. If your child becomes homesick and needs to go home, you need to know how to get to camp. 4. Be prepared for lots of hugs and kisses from your daughter when she gets home. 5. Take pictures of your daughter and her troop before they leave and when they get back. If I can be of further assistance to you or answer any questions, please let me know. Yours in Scouting, royal52gens

• United States
23 May 07
P.S. There are two groups here on MyLot that you might want to check out. One is Girl Scouts and the other is Girl Scout Leaders.

• United States
25 May 07
thanks for taking the time to give me so much valuable info. i appreciate it. she had so much fun although the weather wasnt the best. it rained much of the first day. but she enjoyed it anyways. i also survived the weekend without driving myself or my kids and hubby nuts..lol.

• United States
25 May 07
I am so glad to hear that you survived your first Girl Scout camp trip. I think the first one is always the hardest one for the parents to get through. I am glad your daughter had a good time also. So tell us, what did she bring anything home? Sticks, rocks, shells, art projects, photos, stories, poison ivy (LOL)???