class ring....do you like to have it or not?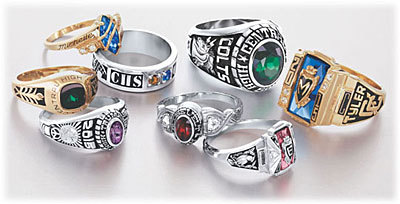 Philippines
May 18, 2007 10:13pm CST
Do you like to have a class ring upon graduation in college or not? Do you consider this so important or not?Give me your views on this guys?Me,i find this very important one because this signify my success but due to financial problems i was able to have my class ring by the time i have landed my first job after graduation. I like to wear this class ring of mine because this remind me over the triumph i have for succeeding in college inspite of financial problems. This will always remind me of the courage and strenght i've been through in order to be success in aiming my dreams in life. How about you guys out there?Dare to share?
9 responses

• Philippines
21 May 07
I love to have a class ring but it is too expensive. I can't even pay my tuition bill because of our financial situation. Thanks to the School and God for letting me graduate with a remaining balance of more than PHP12,000. A class ring symbolize your hard work and success in your study. For me, it would have been nicer if the school will provide it for the student. hahahah...LOL...

• Philippines
21 May 07
You have a point in their also lextoper. Never did i think that way also.:D But if you'd really like to have a class ring you can have the cheaper one. Mine, was a petit barrel not that costly and i just have my class ring when i already have a job coz like you i cant afford to have one because my parents don't have a job and im the one who shoulder for my expenses in school just thankful that i was one of the working scholar in school so feel no worry with the tuition fees.So, for me it really very important to have my class ring for it will always reminds me over my triumph in fulfilling my college education...it is my greatest dream that has fulfilled when i have got my diploma last October 2002....It just proved me one thing that poverty is not a hindrance in fulfilling my dreams in life.:D Have a nice day.

• United States
21 May 07
Hi, I did have a class ring when I graduated high school. It was a very nice ring. My brother also had one. My mom had one from high school too. Someone came and robbed our house and stold all of our class rings among many other things. I still think about my ring. I was so angry and sad to loose my ring.

• Philippines
21 May 07
Oh!sad to hear what had happened but if you can afford to have another one then its a better idea i think. It's nice to hold a memorabilia of our success.Just think positive of what had happened, just think of you have helped that robber one way or another.I have tried being robbed also with my new pants have it bought for a couple of 2 months and it was robbed, its hurting and i felt angry also but i have laid a positive thinking on it because the more i think of it the more i got hurt. Have a nice day and thanks for dropping by and by sharing your thoughts.

• Philippines
21 May 07
Yes jcverns i prefer to have my class ring to emphasize my truimphs over college days.Yes truly it signifies a survival for me tru those hard times.

• United States
19 May 07
To be honest with you, I graduated from college ,but I did not gave too much importance to the ring. The satisfaction of knowing that I'm a college graduate is already enough for me. I can understad also that the ring is a symbol of success and it means a lot to college graduates.

• United States
19 May 07
My parents bought me a class ring when I was in high school, and I still have it. I don't wear it anymore, because I have a different ring that I prefer to wear on that finger, but it is nice for the memories of high school, particularly how different I was from many of my classmates.

• Philippines
21 May 07
Thanks for you post scarywhitegirl. High school days is one of the best days for a student...me, i do have a nice memories to cherish to though i wasn't given by my mother a class ring because of financial aspects but happy that i made this far for my mother serve as my inspiration for all the triumphs i have in life. I do offer this success to her for the great love i have in her.Have a nice day.

• United States
19 May 07
I didnt go to college but i did graduate high school and it was very important for me to get a class ring to signify that acheivement. Mine was a gift from my mother as to signify her acheivment that she was able to push me hard enough to be able to graduate, see i have 2 other sisters and i am the only one to graduate from regular high school. So it was a big acheivement for me to make my mom proud. My problem is that when we ordered it, it somehow was ordered too big so i was unable to wear it because i am very allergic to things and couldnt wear a sizer becasue of the metal and i couldnt even do the old fashion wrap with yarn cause it gave me a rash too. So i eventually got it sized down but got it sized too small and now it is just sitting in my jewelry box like brand new never being worn. But i know it is there i know what it means and i take it out and look at it from time to time.

• Philippines
19 May 07
i graduated in college in 2006 and at that time we're just starting to recover from the loss of my mom due to cancer. cancer treatment is so expensive and we sold everything we had just to pay for my mom's treatment. because of this, i didn't buy our class ring. but if ever i had the chance, i'll go back to my school and buy a class ring. it's a memorabilia once in a lifetime. not worth missing!

• Philippines
21 May 07
Oh! sad to hear that. Accept my sympathy but you can have your class ring Bethel though its late to have it but its better late than never to have it, right? Your right then its a thing to be treasure for lifetime because of its significance brough to us. Mine, i did work hard also to have this. I have also got this a few months after i have my first job.So, goodluck and wish you could have it soon. Thanks for dropping by. Have a nice day.

• Palatka, Florida
19 May 07
I would like to get a class ring when I can afford it but I did buy myself a charm that says 2006 since I finshed high school last year. I did it late but better late then never. I wish I could afford a class ring though. I think they are a lot neater.

• Philippines
21 May 07
Thanks for you post Shaun. I know you can have it at the right time just save some so that you can buy your class ring. It's really worth to see it in your hand for it will remind you on your efforts in order to succeed in you education. Have a blessed day. I wish you can have your class ring sooner.

• Philippines
19 May 07
Yah, your right..I have mine a gift from my mother after my graduation until now I wear it whenever I go and as long as I live.

• Philippines
21 May 07
Oh! that sound a sentimental one since it was given by your mother dear.Glad to know you valued it very much. If time comes then my son would graduate from college I will try my best to do the same as a gift for all the efforts he will made in the future. That's one thing i wished to see my son finished his education.Have a nice day. Thanks for your post.