Gardening with kids?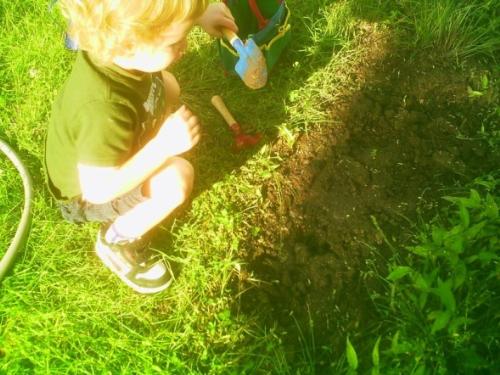 United States
5 responses

• United States
19 May 07
We're renting, so we haven't really invested in a garden, but we have a patch of dirt where there's no grass. My son has plastic tools and a little wagon and he plays in there all the time. He loves it when it's rained so he has some mud to work with lol. I think it's great for children to explore outside, I can't wait to own our own home (hopefully next year) so we can do this together. I used to garden with my grandma when I was a kid, we are still very close today.

• United States
19 May 07
I may not qualify completely to answer this post because I do not have any children to garden with BUT I do recall as a child and adolescent, being given the wonderful responsibility of tending to the tomatoes and cucumber plants in Grandma's garden. She trusted me with the tools as I had paid attention many times before and taught myself how to use each tool properly, making the ground rich and ready for fertilization. The best part of learning from this fabulous woman was the Joy of Gardening: 101. I learned real names, grocery store names, how to cook them, what the best watering and feeding plan was for each kind of plant and how to harvest the vegetables that came to fruition without destroying the plant or roots of the plant used for planting next season. It was thrilling and an appreciation for sustaining the tasty things in life was taught early on, a lesson I will forever be grateful for !

• United States
19 May 07
This is one task my son was interested in doing when we visited my Aunt in Connecticut. She bought some flowers to plant in her window boxes etc and my son wanted to help. He mixed the potty stuff and helped her take out the flowers from the old pot to the new, then he water them after. He really enjoyed himself so when I get the chance i am going to buy a few for our little balcony and have my son help me :)

• United States
19 May 07
My son did not inherit the love for gardening that I have, but because he was active at times while I pruned and weeded and planted, he does have an appreciation for nature and home grown foods. Most of my nieces and nephews over their childhood years received some type of gardening kits from me as gifts. The feed back from my brothers and/or sisters told me the kids really enjoyed these gifts. Besides, what a healthy activity to do with your child.

• United States
19 May 07
I have done the gardening with my kids in the past. Got lazy this year and have not planted anything yet this year. I suppose there is still time to get some things planted. Maybe we will planet so flower seeds this weekend.