The Results

United States
May 19, 2007 3:56pm CST
I had started a discussion last week or so asking about what type of plants to use for a sunny area. After many suggestions I went out and bought a few. I also got a few bags of mulch and have set them around most my flower beds. This is a shot of the area I planted with members suggestions. In the forefront is Lavendar. Next is a Bee Balm plant. Then I also have 2 Seedums planted. One is visible the other is near the top. I also planted about 25 Shasta Daisy seeds at the top edge of this photo. I wish to thank all friends for their suggestions. I also wanted to share the results at this point also with you. Now the area is not done yet. It's a tad shabby looking. I'm deciding how to border it. More of this littlwe white fencing or some decorative bricking. I have yet to decide on that. I need to go back out and rake the mulch a bit to make it look neater anyhow. But thanks again friends and other members. Have a great day/evening. P.S. you can see the tags etc so I won't forget what these are this time around. Hahahahaha!!! HAPPY POSTINGS FROM GRANDPA BOB!!~
7 responses

• United States
19 May 07
Grandpa Bob. What a great start. If I might suggest: keep the mulch away from the base of the tree. I took pie tins, slit to the center, inverted it, and placed it around the base of my tree. Wet mulch around the base of the tree causes dry rot or bark decay. I can't tell by the photo but the tree trunk flare should also be visible. Dig away some of the dirt to expose this. Hope you continue to provide photos as the new plants bloom.

• United States
19 May 07
Hahahaha. There isn't any tree here at all. Raed what was planted then and maybe you'll know theirs no tree. But thanks for the info as far as mulch around a tree is concerned. Please read the whole discussion. This is a fairly close up photo also. The tallest plant here is maybe 4 inches tall. The tall white item is a plastic stake with a plant name. HAPPY POSTINGS FROM GRANDPA BOB!!~

• United States
20 May 07
hahahaha. And that advice is greatly appreciated also. I was going to move all the muclh from around the white stake then take another photo. Hahaha.

• United States
19 May 07
The color in our mulch is really pretty, will it stay that reddish color? I think the contrast with the green plants is great. I have been too busy with jobs to do what I need outside. Of course without jobs, there is no money, so what can a person do? I love lavender. Someone did excavation work between my property and the next, and I no longer have Bee balm, but might buy some this year. There is still plenty of time in Kansas for garden.

• United States
19 May 07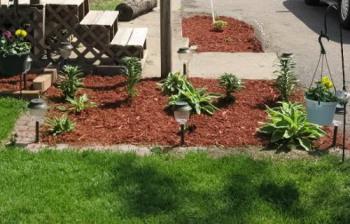 Yes the mulch remains red till around August. It actually depends on how much water it get's. The average watering and rainfall doesn't affect it till late in the season. That's why I buy the red is for the contrasting appearance. Here's another area. Hostas,Asiatic Lily's, Endless Summer(hidden by the light) and 2 lady Mantles' also. I sure take a lot of pictures don't I? I have a few more of the bunny that visits (eats) my flower beds taken this morning. HAPPY POSTINGS FROM GRANDPA BOB!!~

• Edinburgh, Scotland
20 May 07
You are working well and I'm sure when you you decide what type of border to have it will be a wonder site to see. When it is finished you will have to take a couple of pics for us all to see in it's full bloom and we looked forward to see. Have a nice flower smelling day from Deeeky.

• Australia
20 May 07
This is going to work well Bob. I love Lavender in partuicuarly. I have a huge English Lavender bush in my front yard. I prefer English Lavender to Australian Lavender. Daisy plants are always popular & easy to maintain too. I can't wait until my garden is more developed, then I can show you some photos. I rated your photo & wrote a comment.

• United States
19 May 07
Your plant bed is gorgeous! I love this time of year when we can get outdoors and plant! Hubby and I spent the day fixing an area in our back yard. We planted a gorgeous blue leaf hasta, an astilbe, liriope, sedum, and several flats of annuals for color. We have a large ceramic turtle that is placed in the bed too! The bed is near our swimming pool and he looks so cute there!

• Canada
25 May 07
Bob, that looks wonderful. If I may make a suggestion though? I would probably (and this is just MY opinion lol), but I would probably be more inclined to go with decorative bricking as opposed to the white fencing. Bricking is better at containing Mulch, and you can get some awesome colors that would complement the red of the mulch beautifully. Either way, it's looking very nice indeed. I SO can't wait to have a garden of my own again.

• United States
25 May 07
Thanks very much also. The white fence was set there as it was the last piece I had so I wanted to see what it looked like there. I am not using it as a border. But I have yet to remove it too. This fall or next spring I will use some type of brick possibly or leave ot bear. Who knows? Hahahaha!!! HAPPY POSTINGS FROM GRANDPA BOB !!~

• Canada
20 May 07
I'm glad things worked out so well for you, with the suggestions from your fellow myLotters. It'll be great to see everything there in full bloom. Thanks too, for the photo updates Grandpa Bob.:)

• United States
25 May 07
Oooh the smell of that Lavendar planted. Everytime I walk past it the aroma sweeps throuigh the air hitting my nostrils and I just take a deep sniff. Yess thanks to whomever it was that suggested Lavendar. Haha HAPPY POSTINGS FROM GRANDPA BOB !!~