im inlove with nutella

Australia
May 19, 2007 9:25pm CST
im not sure what the go is, but the other day coming back from sydney we stopped at these farm markets which i never been to before, so walking around the store and found heaps stuff i wanted to buy and found nutella, and i thought oh i might get some its $2 for the jar thats fairly cheap and i havent had it for awhile so i got it, now im home and i cant stopped eatting it, so i wack it on bread, (prob to thick lol) and theres less than half a jar left and i have only been home 2 days now. do you go like that with certain foods?
10 responses

• United States
20 May 07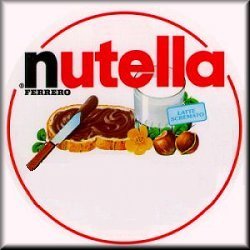 Hey Melijessxena, how are you doing? Yea, it is good, but you have to watch it can be bad cos it is high in calories and unlike peanut butter it doesn't have much fiber or protein, so really it is full of sugar and fat. Every once in a while is good. Be sure to follow the serving size, and be sure to check with the brand. Sometimes the off brands have trans fat, and I can't stand trans fat so I just usually buy the name brand or sometimes I just eat regular peanut butter. However, Nutella will always hold a place in my heart:D. Pablo

• Australia
20 May 07
yeah i know where your coming from, thats what is worrrying me because i have put on so much weird about 25 kilos in the last 2 years, when i met my partner i was about side 10 going onto a 12 and now im going into a 16. i use to be about 60 kilos now im 85 kilos and i think my weight is still going up and i just cant help it

• Australia
20 May 07
Oh now this word Nutella brings back lots of memories of when my daungter was younger and I would buy Nutella one day only to find it almost empty the next and hidden at the back of the pantry! lol She would literally eat it with a spoon, not even put it on anything. But to this day I am sure she does not like it anymore, especially now that she has to buy it for herself. lol I am like that at the moment with a certain bread that I buy from a cafe' that makes their own, and cannot stop eating it. It has a few different ingredients in it but is so yummy!

• Australia
20 May 07
yeah my mum use to buy heaps for when i was kid, just those little treat size ones that come with a spoon. but now i have to buy it myself lol. so i dont buy to often, and now i have i cant stop eatting it lol.


• Australia
21 May 07
lol and i wonder who that friend is lol.... mmmmm might be me lol... i like turkih delight and caramello as well yummo.... going shopping tomorrow so i think i might just have to get some..

• Romania
20 May 07
yeah i know it is very good ! i love nutella to.but i have some problemsevery time i eat my tooth hearts me , a went to a doctor and he say that i dont have anything???i don't know what to do!

• Australia
20 May 07
maybe you should see a dentist, usually when i eat chocolate and my tooth hurts it because i have a hole in the tooth.

• India
21 Dec 07
I like strawberry too in flavors for ice cream, smoothies, shakes, candies, cakes and pastries. but i still like chocolate more as i am addicted to it.

• Australia
22 May 07
Hello meljessxena You are really fall in love with Nutella. I like nutella too, I eat with bread for my breakfast, sometime I eat that with pancake. Where you can get 2$ for nutella? Good combination for bread and a cup of hot chocolate, yummy.. God bless you *angel www.beautycosmetictips.com


• Brazil
20 May 07
Nutella is better than Peanut butter! I have always been in love with it... I've always been in love with PRINGLES too... Pringles... That chip potato... Man! It is the best food ever!!! No, just try to put Nutella on top of it... Girl, you will not stop... It is rrreeeeaaaallyyyyy good... Try it and tell me later what your impressions *and delights...

• United States
20 May 07
My grandson loves Nutella. Hubby found it in a store and brought it home. Now my grandson has it nearly everyday on his toast. I love to have peanut butter and honey on my toast. But, my favorite is maple butter.

• Philippines
20 May 07
when its my first time to taste nutella its make me craving.So i everytime we go to groceries i always buy for it.But now i feels something different with my body its makes me fats,because i always eating nutella every breakfast with more thicker and putting honey on.So i have to loose weight and stop eating nutella everyday,butstill eating once a week.I can not do with out nutella.But always teeling me not good with diet.but i am still eating.